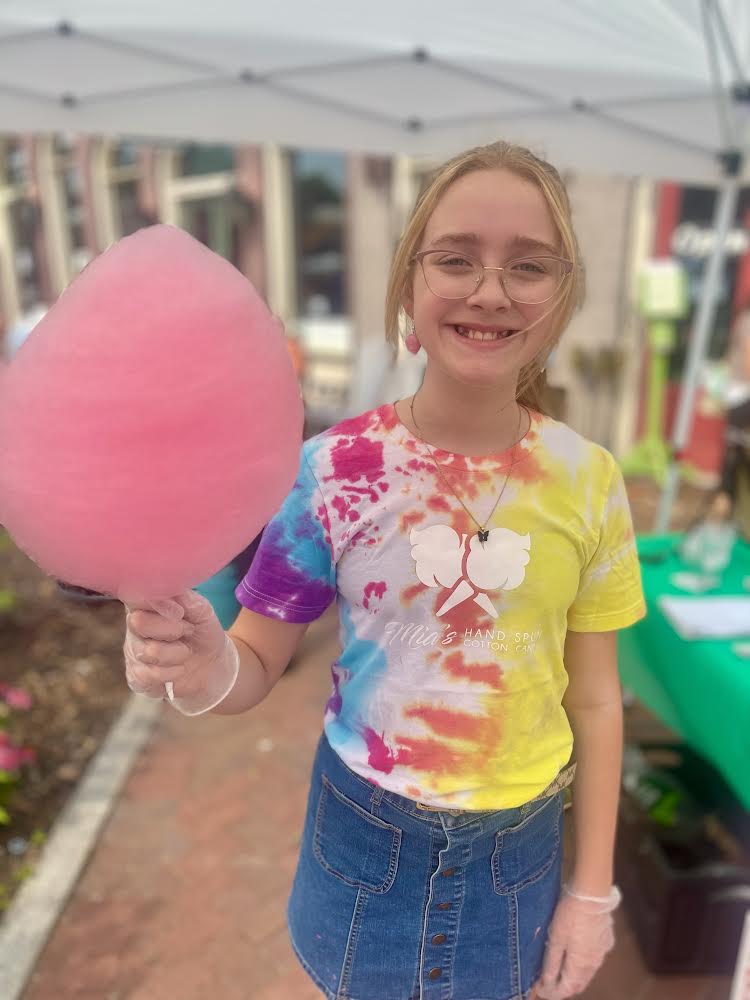 Mia's Handspun Cotton Candy was a huge hit at The Peachtree City Moms' 2022 Summer Palooza!   We were so impressed with the fabulous Cotton Candy and how Mia has become an Entrepreneur at such a young age, we wanted to learn more! Below, Mia shares with us how she was able to turn her hobby into a full blown business. 
---
Q&A
Hi Mia, where are you from?
I was born and raised in Newnan/Sharpburg. My mom, Emily, grew up in Peachtree City and my dad, Andrew, grew up in Cheyenne, Wyoming.
How many siblings do you have?
I have one brother, Oliver, who's 3 years younger than me.

What do you love most about Peachtree City and surrounding areas?
Obviously, the golf carts are fun but all the different places to eat, shop and explore make it a fun place to live. The support the community has shown me is really awesome!
Tell us how you started your Cotton Candy Business? How old were you? 
I started my business during the spring/summer of 2021, right before I turned 11. We had a small cotton candy machine that my dad had brought home from his office. I started making cones for my family and friends and then thought it might be fun to sell to others. We set up as a vendor for a small event in Newnan and sold out within a couple of hours – even though the machine was very slow. After that event, I began researching bigger machines, learned how to make my own sugar flavors and started learning about what it would take to make this hobby into a business. Shortly after my 11th birthday, we started doing monthly events, birthday parties, corporate events and other things. It really took off and it's been fun working and making it grow.
How did you decide on this Business?
After the success of our first event, it was so cool to see how happy a cotton candy cone made everyone. I wanted to be more creative and I learned how to make my own sugar that I could turn into really cool designs and unique, yummy flavors of cotton candy.
Your family seems very supportive of your venture. How has this helped you grow your business?
Both of my parents have encouraged me to enjoy this, challenged me to work hard and to make it my own. I couldn't do this without their support and time. My mom helps me with so much – social media, my booth design, taking orders and has helped me understand customer service. My dad helps with ordering supplies and making cotton candy during events. Even my little bro helps with set up and clean up and helps test new flavors.
What have you learned about running your own business?
So far, I've learned that it takes a lot of work and that it is rewarding. It is so cool to see something you make bring happiness to someone else.
Would you like to share any advice for other kids who may want to try and start their own business? 
I think I would let them know that it takes time and patience. Your first idea may not be the thing that works and that's ok. Also, there are people that will copy you but you have to make it your own and be grateful for the people and communities that support your business.
What's your favorite restaurant and/or place to shop in Peachtree City and/or surrounding areas?
My favorite restaurants are Positano's, Longhorn and Chick-Fil-A. I love shopping at American Eagle and Lululemon.
Anything else you would like to share? 
Give us a follow on social media, Instagram – @handspuncottoncandy and find us on Facebook – Mia's Hand Spun Cotton Candy