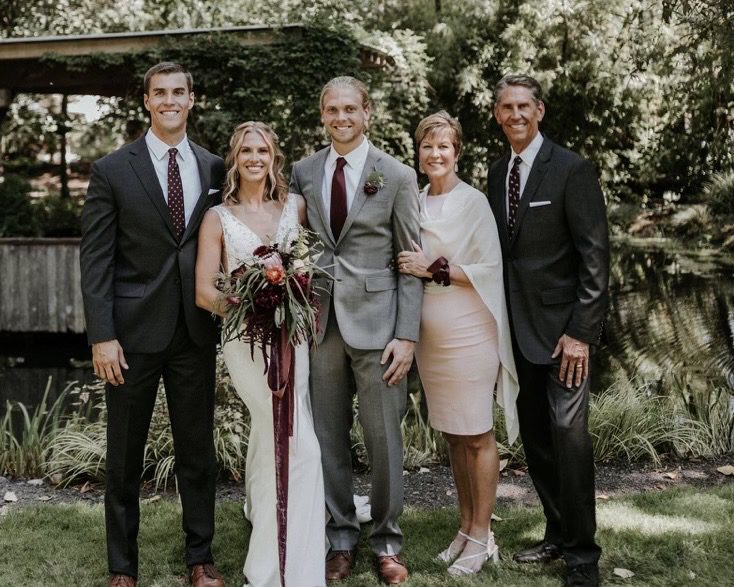 Meet MJ Gleichman, Mother of Jacob and Anna, Homeschooler, and Founder of Writing Symphony. She and her husband and Currently live in Issaquah, Washington. While teaching, MJ realized early on that "the foundations of writing were missing.  Students struggled with sentence structure and word choices, not to mention, the knowledge of basic grammar." Read below to learn how her Virtual Writing Classes help provide those critical foundations that enable students to go on to become great communicators on and off paper! 
---
Q & A
What is your background? Tell us about your career.
I started out in education as a music major at West Chester University near Philadelphia with hopes to teach elementary music. My degree goals shifted to elementary K-8 education with a minor in music.  While attending West Chester University, I participated in the National Student Exchange Program at Montana State University. I met my husband Jeff on the airplane ride from Philadelphia to Bozeman, Montana where I fell in love with Jeff and skiing.  After getting my BS in Education I decided to pursue my master's degree in curriculum and instruction. I had a wonderful opportunity to write an overview curriculum for a "one–room" school close to the university. Little did I know that this would eventually lead to writing and teaching my own lessons to my own children. Jeff and I graduated in 1985 and were married a year later. After several years of teaching, I decided to be a stay-at-home mom and later homeschooled my two children, Jacob, who is now 28,and Anna, who just turned 26.  
Tell us more about Writing Symphony and how it came to fruition.
My homeschooling experience allowed me to use my curriculum background. Writing Symphony got its foundation around our family dining room table.  Early on in my teaching career, I realized the need for regular writing practice for many of my students.   When essay assignments were given, I could clearly see that the foundations of writing were missing.  Students struggled with sentence structure and word choices, not to mention knowledge of basic grammar. I focused on other subjects with little time in my teaching day to focus on writing.
As I later homeschooled my 3rd and 5th graders, I developed a practice that would focus on the process of writing believing that the process would produce a quality written final draft.  Like music, writing is a performing art; we call it language arts because writing, like music, is subjective. Writing Symphony teachers are trained in our methodology and are certifiedteachers. They offer live weekly interactions with students.  The homework that students do each week is shared with the small group of students in our classes with no more than six students per teacher. This small group environment allows for interactive communication and the sharing of weekly writing.  They have a sense of accountability to the small group they meet with weekly, and they write for each other not just the teacher. The short daily practice lends itself to a well written final draft.
Page Olson has brought the Olson Method for Public Speakingto our curriculum offerings.  The Olson method is a dynamic way to guide students in becoming quality communicators outside of writing. Page approaches public speaking in an extemporaneous style allowing students to find their story and their way of engaging the listener. The Olson Method is designed to help students learn how to speak to be understood. Writing and speaking, along with reading, interconnect to build a strong language art foundation. These opportunities are difficult to master in large classrooms.
What is the best thing about your job?
I love teachingwriting.  Today I have the privilege to hire and train teachers who have that same passion.   I've had the privilege to Work with Dr. Mary Kleymann who had received her doctorate degree in curriculum and instruction, with her dissertation being on the topic of online education and what makes a quality online program successful for teachers and students. We are like–minded educators who believe our students deserve to learn effectively how to become confident writers.  Our teacher liaison, Lisa White leads the teacher training and schedulingalong with Wendy Howard who heads up the curriculum that our teachers use weekly.  It is a remarkable team of committed women who are teachers themselves.  We are all passionateabout accountability to writing, reading, and vocabularyobjectives. We know what works to help students be exceptional writers.
What is your best "working mom" tip?
We would have regular family meetings. Even though I homeschooled my children, I supported my husband's business, too.  I wore many hats.   In the process of busy lives full of select baseball games and practices, fitting in dance rehearsals and competitions, Jeff and I made sure our children understood our commitment to them but also to others outside our home who needed our time.  When our children understood why we were committed to our family business and included them in communication about those things, it unified the family dynamic giving an understanding of what our other responsibilities wereand the importance of our life outside of our children's needs.  This helped them to become the independent adults they are today.
What is your favorite "mom hack"?  
I taught my kids early on how to do their own laundry and make a good sandwich.  If they can take responsibility to have clean underwear and fill their stomachs quickly, that was a good by me.  
What TV show are you loving right now? Book? Movie? Podcast?
I just finished the Netflix hit, 'Better Call Saul" and am now reading The Lincoln Highway by Amor Towles
Is there anything else you would like to share with our Moms?
I encourage parents to read the writing their children are doing in school. Seek to know if they are being given quality feedback from assignments. In addition, be aware of the amount of writing that their students are doing each week. If students are not being asked to write with quality critique, how will they grow as a writer? Writing is a lifelong activity that will set kids apart. Today higher-level test scores are common, but a well–written essay demonstrates how students critically think and present their ideas to a reading audience. This life skill learned early will follow students well into their college years and future careers.

For more information about Writing Symphony, please visit www.writingsymphony.com.