Happy Meet A Mom Monday! I'm excited to introduce you to Jessica White, local Mom and Owner of Perfect Peach Waxing in Peachtree City. I had the opportunity to meet Jessica for a sugaring treatment a few weeks ago. She is extremely knowledgeable and passionate about the art of waxing/sugaring to truly create a custom experience and result that is just right for you. Below, Jessica shares all about her career and how it led her to opening Perfect Peach Waxing along with some Mom advice, and some of her local favs!

Q&A
Where are you from? I was born in Florida but grew up in a small town in Wisconsin.
How many kids do you have? I have 3 kids, 2 girls and a boy.
What do you love about Peachtree City and surrounding areas?  First, it is so beautiful around here and second, I love that this community always is finding ways to support one another. 
What's your favorite restaurant and/or place to shop in Peachtree City and/or surrounding areas? Sephora and William Sonoma. Anything beauty and or cooking/baking related is my favorite!!!  
Tell us about your career? I've been doing hair and makeup since high school. Helping people feel like the best version of themselves inside and out is my passion. After high school it was a no brainer to continue that path for the past 20+ years. I just recently opened Perfect Peach Waxing located in Peachtree City.
How did you decide on this Business? Having a drive for helping others and growing up with three sisters I quickly became the "go to girl" for hair and makeup. Which lead to the "go to girl" for our high school too, LOL. It quickly became a passion of mine for sure. I attended The Vidal Sassoon Academy in Santa Monica, CA in 2001 and my journey in the health and beauty industry began. My transition from doing hair to waxing came effortlessly for me because what's better than helping people feel better in their own skin? Thus, Perfect Peach Waxing was born.
What is the best thing about your job? My clients!!! I've gotten to meet some truly incredible people.  Waxing/sugaring is an art and not as easy as it looks but if you love what you, do you research, and work hard, you can master your hand at it! I continue to do that daily because I truly love the art of waxing/sugaring.
What sets you apart? Communication is key and I want anyone who comes through my door to leave feeling like they were truly paid attention to. Not every service or person is the same. Listening, and paying attention to my clients needs is very important to me. There isn't  "this is how you wax every person" straight forward way of waxing/sugaring to me. It is very personalized. Every eyebrow is different and every eye shape is different. I hope that when you come to see me you leave feeling nothing short of amazing! Come, relax, have a coffee with me, and I will use your short time with me to focus 100% on you.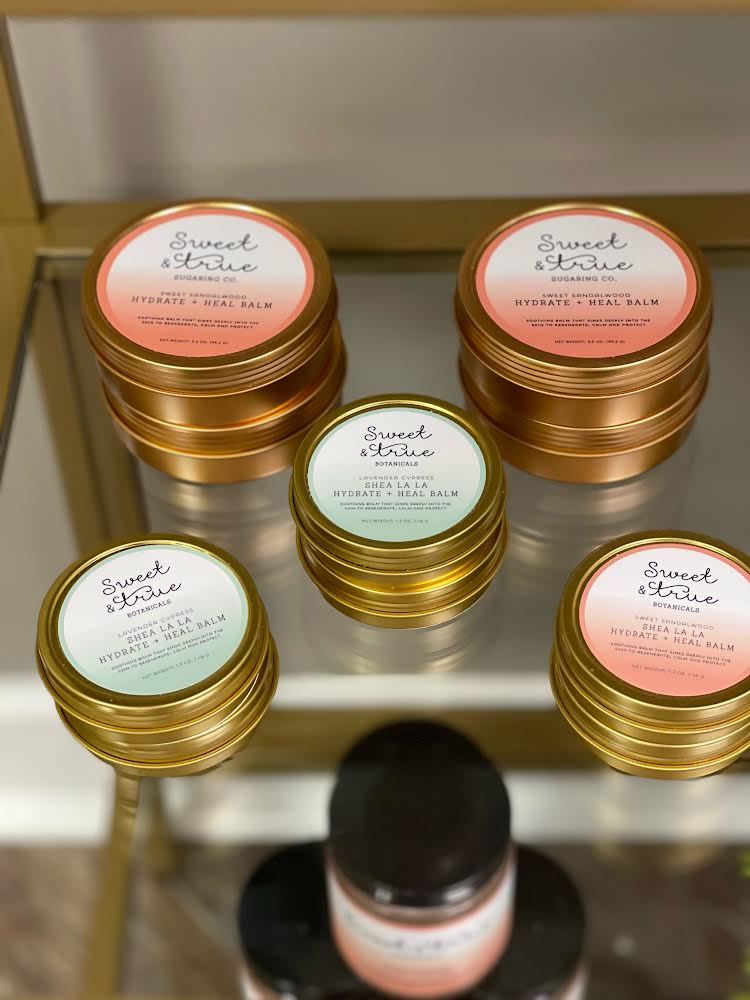 Advice for Mom's or a Mom hack you would like to share?  Advice is hard and I have no hacks, haha! But I try to always remember to never forget that you are doing a great job even when you think you aren't. You truly are! There is always someone else going through something similar so don't ever feel alone. We are tough on ourselves and trying to juggle the world all at once. It's okay to ask for help and I have to tell myself this daily. ❤️
To book an appointment or consultation, visit https://www.perfectpeachwax.com.