I'm so excited to introduce our first Meet A Mom, Heather Bergholt. She is a local Mamma and the very talented artist behind Pick It Place Designs. Heather's bright and colorful murals are the epitime of fun. Oh, and her artwork doesn't stop at murals. Heather paints canvases, mailboxes, birdhouses, clothing, coffee mugs, flower pots and lots more. You name it and she paints it hence the name of her business, Pick It Place Designs…you get to pick the design!  And it doesn't even stop there…Heather's Husband also offers custom woodworkings like porch swings, dining tables, and even cabintry. Read below to learn about Heather's journey through Motherhood, careers, and the hardships which led her to become the inspirational artist she is today. She is truly a local gem in our community!
Heather, where are you from? I am a native of Atlanta, Ga- but mostly grew up in NJ!! In 1992- a move brought me back to GA!!
What is your job? Currently…. Mom, Wife, and small business owner- doing what I love…creating ART!!
How many kids do you have? One child- our daughter!! She will be a senior this next year!!
What do you love about Peachtree City? The best thing about Peachtree City is the sense of COMMUNITY!!! There is truly something for everyone!!
What's your favorite restaurant and/or place to shop in Peachtree City? I LOVE The Avenue- it has a little bit of everything- great ambiance… and so many great restaurants like Highland Bakery!! As far as a favorite restaurant… I'd have to say – at the moment …..Thai Spice!!
Tell us about your career? My "career" has been very diverse- but mostly in the area of the ARTS- I did ballet for 17 years growing up- and in 1992-a contract with The Atlanta Ballet is what brought me to Atlanta- once I quit ballet indefinitely… it took me awhile to find a new path/ career! I found a job in sales/retail management in Atlanta for awhile, then another design company and sales- long story short… those became foundations in helping me do what I do now! Art!!
Why did you decide to become an Artist? It wasn't a decision that I came upon all of a sudden! It truly UNFOLDED! When I became a mother- everything was new! When my daughter was just three, she became ill! It led us down a long journey of some extreme hardships. Challenges we weren't prepared for. Homeschooling for 8 years because she couldn't be in large groups of people or children, or events. Her immune system was weak. She needed infusions every four weeks for immune support- and she still receives those today! ART made our days creative… different… colorful… and connected! I didn't know four years ago- that those years would lead to PICK IT PLACE DESIGNS! God knew!!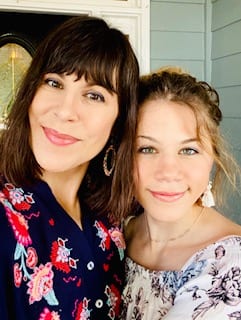 What is the best thing about your job? The BEST part about my job… is the PEOPLE and CONNECTIVITY !! May I also add….. COMMUNITY!! The art is the venue, but the relationships are the true gift!! I love people and hearing their stories, and seeing how art can make a difference not only in their home, but in their heart!!
How do you juggle work with Mommyhood? Juggling is the hardest!! I work hard… but also allow myself the time to relax and breathe!! When I take that time, I have more energy and better creativity!! I've learned the hard lesson of…"one day at a time "- it's all we get anyway!! It's served me well!!
Advice for Mom's or a Mom hack you would like to share? Allow yourself to be in the moment!! And it's ok if not everything gets done on the "to do " list!! Sometimes that cup of coffee…. extra snuggle time… or long conversation with your teen… is truly the most important thing in that day!! And… hug yourself too!! You've got this!!❤️
Currently, you can find Heather's artwork at The Funky Shack Mercantile, The Hug Box, and Brick and Hubbard. Want your very own comissioned piece, connect with Heather on Instagram @pickitplacedesigns.