We are excited to introduce our latest Meet A Mom,
Dr. Kiersten Pannell. She is the Mom to Wyatt (6), Walker (3) and Isla (3)( — yes, they are twins!), and a Pediatric Dentist at Peachtree Pediatric Dentistry in Peachtree City! Dr. Pannell grew up in PTC and currently resides in Brooks, GA. Her calling to Pediatric dentistry dates all the way back to 3rd grade while attending Peeple's Elementary. Read our Q&A below to learn about her best working Mom tips and why she loves being a Pediatric Dentist!
---
Q & A
What is your background? Tell us about your career. I grew up in Peachtree City, and graduated from Starr's Mill High School. The dental office I was a patient at was Peachtree Pediatric Dentistry—where I work now! I went on to obtain a Bachelor's degree at Xavier University in Cincinnati, Ohio. From there, I attended Dental College of Georgia at Augusta University in Augusta, GA. Following dental school, I completed a 2-year pediatric residency at the University of Florida. Upon completion of my residency program, I began working as a pediatric dentist at Peachtree Pediatric Dentistry, with Drs. Marcum & Mobley.
What called you to become a Pediatric Dentist?
When I was in third grade (at Peeples Elementary!), I had a dream to one day become a dentist. My pediatric dentist at the time, Dr. Marcum, encouraged me to chase after my dreams. As I progressed through my schooling, I shadowed many different health occupations (thanks to the health occupations course that our county offers at their high schools), and quickly realized my passion lied in the field of dentistry, specifically with children. As a pediatric dentist, I am able to not only use my knowledge to educate and treat patients and parents, but I am also able to use behavior management skills to help guide patients through their first dental appointments to formulate positive dental experiences that they can take with them as they grow older.
What is the best thing about your job? My patients! Each and every patient of mine is so unique, and every appointment looks different. Guiding children through appointments, and helping them overcome their fears is something that I love doing — no matter how long or how much patience it may take! While there are some patients that I can help, there are many patients that teach me. Whether they teach me how to be more kind, or how to look at life through the lens of an innocent child, there is so much to learn from our younger generation!
What is your best "working mom" tip? I would say that my best "working mom" tip is to take time for yourself. I have learned over the past few years that self care is not selfish. That I have to take care of myself so that I can put my best foot forward for my family.
On an airplane, they tell you to put your oxygen mask on before helping others. And I've always thought "no way, I am helping my kids first!" But if I became unconscious, my kids wouldn't have me to take care of them at all. The same goes for taking care of my well-being. If I don't take care of myself by giving it the nutrition, exercise and self-care it needs, I wouldn't be able to show up for my kids in the many ways they need.
What is your favorite "mom hack"? Keeping a sharable calendar! I use my iPhone to put every little thing onto the calendar — from my work meetings, to each of the family members doctors appointments and sporting events. This makes it so easy to keep track of everything, and to see when we might have over-lapping events. An added plus — it can be shared with anybody! I share mine with my husband, so we both are always on the same page with what is going on.
Also…packing lunches the night before is a HUGE game changer. It helps make mornings run much more smooth than trying to stuff lunch boxes in the morning when things are already rushed.
What do you love about Peachtree City and the surrounding areas? I love the community that we have here in Peachtree City, and the surrounding areas. As you are out walking, on golf cart trails or into any public store or location, you are always greeted with the warmest wishes. From a hug, to a simple "hello" or "good morning," you are never left feeling alone in Peachtree City.
What TV show are you loving right now? Book? Movie? Podcast?
On any given night, once all the kids are sleeping, you can find me watching the Bachelor, or old re-runs of Friends. After watching a little bit of TV, I will read for a few minutes before bed. Lately I have been reading a few different books on the child's brain development and how that effects behavior, as well as parenting books — I know, very interesting! 😉   The last movie I watched was "Shotgun Wedding" with Jennifer Lopez and Josh Duhamel — it was so good!!
Is there anything else you would like to share with our Moms? I often hear comments from people how amazing it is that I "do it all" — from work, to taking care of kids, etc. But the truth is…I don't do it all and that is OK!! I rely on help from family members, my friends and co-workers. I have learned that it is completely ok to allow your "village" to help you out. We were not meant to "do it all" and it is crazy that moms often feel the need to do it all by themselves. Do not be afraid to ask for help!!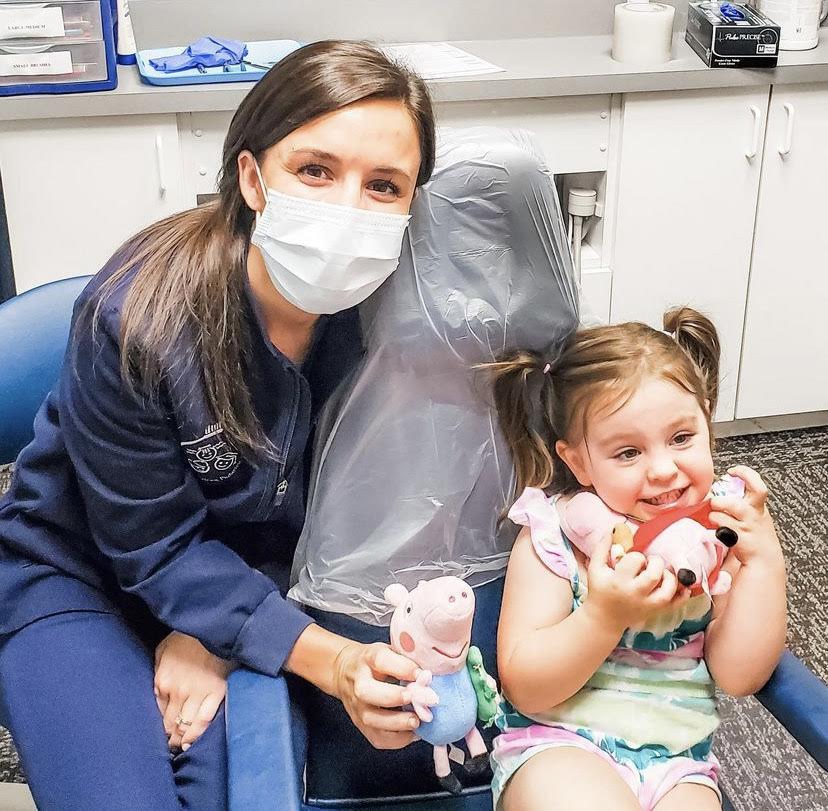 www.peachtreepediatricdentistry.com
---