Do you experience minor aches, pains, and fatigue after your workout or simply from running around with your kids all day? It may be time to try Laboratory Fitness.
Laboratory Fitness is pioneering the future of exercise. As we age, we experience decreasing energy levels, decreasing muscle mass, and aches and pains don't go away anymore. Plus, there is seemingly no time to exercise. Declining hormone levels are commonly known as the "normal signs of aging". But the truth is, YOUR HORMONES DON'T DECLINE BECAUSE YOU AGE … YOU AGE BECAUSE YOUR HORMONES DECLINE. Laboratory Fitness has safe, effective methods that have been scientifically proven to restore your hormone levels. For more information, see video from the Founders below by clicking here.
Lab Fitness is ideal for busy, injured, or elderly parents and grandparents. We help people restore the function they once had in a pain-free way. Users most commonly report increased energy levels, better sleep, and lower anxiety/stress. The best part is you can try out these incredible machines for free!
Vasper technology was designed in the NASA Research Lab. The revolutionary technology combines high intensity interval training with compression and active liquid cooling to help the body restore, harmonize, and reach peak vitality. This ultra-low-impact 21-minute workout is ideal for injured or busy parents/grandparents who want to keep up with their kids. Feel what it is like to have increased energy levels, lower anxiety, increased strength, and PAIN-FREE exercise again! Learn more at www.vasper.com.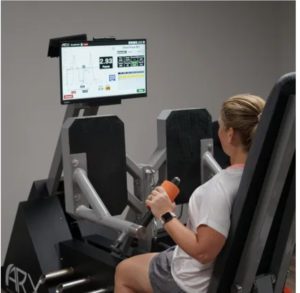 The ARX machine uses computer motorized weights to instantaneously match the intensity that is right for you. These one-on-one, safe personal training sessions arebased on the idea of adaptive resistance technology, which is 94% more time efficient than traditional weights. Learn more at www.arxfit.com.
Lab Fitness is not a traditional gym. It is a modern wellness center designed to restore the best version of yourself from the inside out in a safe and effective way. Feeling better again has never been easier and it's never too late!
Laboratory Fitness is located inside of Home Plate Baseball Academy in Peachtree City at 611 Highway 74S, Suite 300.
Call
678-506-1236
or visit
laboratoryfitness.com
to book a FREE consult and Vasper session.
Mention PTCMOMS and receive a FREE DEXA body composition scan with your membership
---
Article by Milo Sill-Foster, The Foundry School and Brandon Hannon, Laboratory Fitness.
Edited by Caroline Kirsch, The Peachtree City Moms