Do you experience minor aches, pains, and fatigue after your workout or simply from daily activities? It may be time to try Laboratory Fitness.
Laboratory Fitness has created a new and improved way to exercise. With their new technology, you aren't just working out, you are improving your body at a rate only made possible by Lab Fitness's customizable technology. Want to know if your training is effective? Lab Fitness can monitor vitals using their Hologic Horizon A DEXA scanner so you can track your progress as you continue to train! The DEXA scanner can measure your fat, lean mass, and bone density opening the door to individualizing your training. For more information, see video from the Founders below by clicking here.

With its new technology, Laboratory Fitness is paving a path to the future and taking us with them. Between the ARX machine which takes adaptable resistance training to the next level and the high-tech Vasper machine with customizable software and a cooling seat, Lab Fitness is changing the way we exercise today. The best part is you can try out these incredible machines for free!
The Vasper is an arm and leg work out that uses compression cuffs on your arm and leg muscles to maxinize results without intensifying your training. The cooling seat makes it so that you can exercise longer without feeling fatigue from overheating. This machine is a technologically advanced piece of gym equipment that makes exercising more enjoyable while accelerating your recovery time so you can get back to what your enjoy doing with less pain and more energy.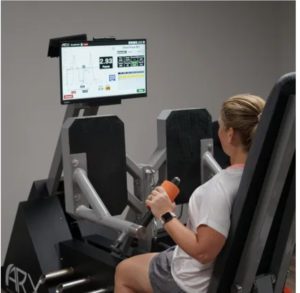 The ARX machine uses a computer rather than weights to find the amount of resistance that is right for you. This machine is based on the idea of adaptive resistance technology. This means it can adapt to you and your fitness needs.
 Lab Fitness doesn't just function as a gym, but as a modern wellness center for you to monitor and improve your health. Getting into shape has never been easier and it's never too late!

Call
678-506-1236
or visit
laboratoryfitness.com
to book a FREE consult and Vasper session.
Mention PTCMOMS and receive a FREE DEXA body composition scan with your membership
---
Article by Milo Sill-Foster, The Foundry School
Edited by Caroline Kirsch, The Peachtree City Moms