Happy Holidays from The Peachtree City Moms! Our 2023 Holiday Guide is here to bring you a curated list of local businesses and providers to help you enjoy the Holidays like a Local!  It's these local businesses that help provide growth and culture to our town. We hope you enjoy perusing our Holiday Guide! 
---
Nutcracker Tea tickets are available today at www.gadance.com!
Join us for Georgia Dance Theatre'sInteractive Nutcracker Tea which will be presented on Saturday, November 11th at the
Crowne Plaza Hotels & Resorts
 Aberdeen Ballroom in Peachtree City.
Created by Artistic Director Sherri Davis and specifically designed for ages 3-10.
-Larger Venue – Crowne Plaza
-More Goodies
-Santa
-And more surprises
We sell out every season, so purchase your tickets now! This is a great Holiday experience for the entire family!
---
Gift the joy of reading to others and yourself with a light escape in funny, romantic mysteries! Local author Larissa Reinhart has three award-winning, bestselling series for readers who love quirky characters, small towns, and a little romance with their mystery. Find her books at your favorite online store or order them for pickup at Books-A-Million, Barnes & Noble, or your favorite local store. Try the first book in her most popular series for free right now! Go to her website — LarissaReinhart.com — to learn more, plus get a free short story today by joining her VIP Reader email club, a monthly email with exclusive news, downloads, and giveaways for her readers.
"Anyone who likes humorous mysteries will also enjoy local author Larissa Reinhart, who captures small town Georgia in laugh-out-loud escapades." – Fayette Woman Magazine
A Wall Street Journal bestselling author, Larissa loves to tell funny stories about sassy Southern women looking for love (and sometimes dead bodies) in all the wrong places, like in her international award-winning and best-selling Cherry Tucker Mystery, Maizie Albright Star Detective, and Finley Goodhart Crime Caper series. You might have seen Larissa and her family with their little dog, Biscuit, on HGTV's House Hunters International"Living for the Weekend in Nagoya" episode. They're back in Peachtree City where Biscuit has a bigger yard and now barks at deer instead of crows.
Check out LarissaReinhart.com to learn more and get a free story while you're visiting!
Learn more about Larissa and her books at: https://www.larissareinhart.com/
Find all Larissa's books at your favorite store: https://books2read.com/ap/nAgw3x/Larissa-Reinhart
Join her VIP Readers group: https://www.larissareinhart.com/larissasreaders
Follow Larissa on:
Instagram: https://www.instagram.com/larissareinhart/
Facebook: https://www.facebook.com/AuthorLarissaReinhart/
Bookbub: https://www.bookbub.com/authors/larissa-reinhart
Amazon: https://www.amazon.com/stores/Larissa-Reinhart/author/B008EME5MA
---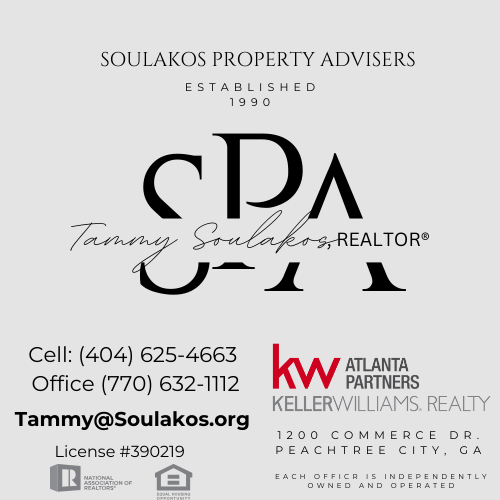 Meet Tammy, owner of Soulakos Property Advisors, or SPA, because she makes buying and selling your home easy and relaxing! She is married to Costas (pictured above) and has two wonderful children, Angelique (pictured above at the closing of her first house) and John (not pictured as he was busy studying to become a dentist)! Being raised in Peachtree City and a seasoned real estate professional, Tammy recognizes and values the trust her clients place in her and strives every day to exceed their expectations. She has been in the real estate industry for over 25 years and has valuable experience in many facets of real estate. She received her B.A. degree from Oglethorpe University and immediately started working with her husband in his IT consulting firm. In addition to being tech savvy, she is also a skilled negotiator, multi-tasker & detail oriented – all traits of a successful REALTOR®!
She takes pride in and enjoys giving back to the community and has served in leadership roles for organizations such as Kares4Kids, St. Christopher Hellenic Orthodox Church, the Southern Crescent Walk to End Alzheimer's and more! She is a proud member of the Peachtree City Rotary Club and serves on the board as well. That's what it takes to truly be a local real estate expert. Not just expertise in negotiation and marketing, but a love and understanding of our community and the people who live here. That's just one reason to choose Tammy to stand by your side – and it's the foundation of everything she does.

Friends Table Upcoming Events at The Avenue 
October 6 Neal Wachope & Friends
October 13 Comedy
October 14 Venus Kings
October 18 Venus Kings and our BIG 5 year anniversary party – tickets on Sale
October 20 Jeanine Duke
October 21 Mose Davis
October 27 Comedy Night
October 28 VenusKings
Check out Friend's Table Menu
here
!
---
Kara ,of Add Imagery Photography, will capture it all.
Kara graduated from McIntosh High School and attended Georgia State University where she earned a Bachelor's Degree in English.  Six years ago, she quit the corporate world to follow her creative dream of transforming your best moments into tangible, timeless, visual stories.
Add Imagery now has openings for Studio Santa Sessions, Tree Farm Minis, Starrs Mill Family, Trilith Family, Cochran Mill Fall Family or general holiday sessions.
---
Kate Dague Interiors is a full-service residential design firm, specializing in new construction and renovation projects, as well as curating furniture and
decor design plans. KDID is available to assist in all aspects of your project from start to finish.
Our goal is to provide you with a tailor-made design by consulting with architects and builders and selecting hardscape finishes that align with the
overall vision.
KDID also offers comprehensive design plans for furnishings and decor that include but are not limited to: Upholstered pieces, case goods, textiles,
lighting, and art. We take a refined approach to selecting pieces that are meant to serve the way you live while providing a custom look completely
unique to you.
IG: @katedagueinteriors
---
Effortlessly Manage Your Business Finances with C Davis. 
No matter the size of your business, C Davis can provide the financial expertise and support you need. Meet Celenna, our founder, with over 20 years of experience and a master's degree in accounting. After 13 years in corporate accounting, she launched C Davis in 2016 to help small businesses thrive. We recognize that bookkeeping can become more challenging as your business grows. Hence, we provide year-round advice and recommendations to help you achieve your goals, rather than merely filling out tax forms at the end of the year. Our range of services includes accounts payable and receivable management, payroll processing, bank reconciliations, financial reporting, and more. Our mission is to deliver reliable, precise financial management solutions to businesses of all sizes. With our bookkeeping service, you can concentrate on developing your business while we handle your financial management. Your success is our success, and we are dedicated to helping you overcome any obstacles and meet your objectives.
Website: 
https://cdavisbooks.com/
Instagram: 
https://www.instagram.com/cdavisaccountingservices/
LinkedIn: 
https://www.linkedin.com/company/96401025/admin/feed/posts/
---
The Bintelli Golf Carts Peachtree City exclusive dealership offers the best selection of eco-friendly street-legal golf carts. Discover the joy of exploring your next adventure on and off the road with the highest quality, fully loaded rides on the market!
We're the electric golf cart experts! Capitalize on a premium brand and explore our fleet of fully customized EVs. We're constantly innovating and adding new models to our wide variety of electric street-legal golf carts. Our highly trained team can also fully customize and modify any of our EVs specifically to your needs. Discover the joy of exploring your next adventure on and off the road with the highest quality, fully loaded rides on the market!
For more information, visit their website here.
---
New Arrivals Daily! Find everything on your list & more this season at Lizard Thicket Peachtree City"
---
This fall embrace your inner child with a Made Fresh Hourly frozen custard sundaes, concretes, jackhammers and MORE at Andy's Frozen Custard! This season you can try one of our fall favorites: the Pumpkin Pie Concrete with a whole slice of pie, or S'mores Jackhammer ribboned with hot fudge, graham cracker pieces and then jacked with marshmallow crème!
Links-
Facebook: @AndysFayettevilleGAGlynnSt
Instagram: @andys.atl
Website: www.eatandys.com
---
At Woodhouse Spa, we're super excited to offer an even better alternative to traditional gift-giving: MOOD CARE! As a brand new spa opening in The Avenue Peachtree City, Woodhouse Spa is proud to provide opportunities for individuals and gift seekers alike to be more intentional with self-care and gift-giving by offering elevated experiences centered around mood care. Let's face it: we all have to manage our emotions amid our hectic lives and the hustle and bustle of tending to others, so start the new year with a commitment to transforming your community by transforming yourself.  
This holiday season, be sure to stop by The Avenue Peachtree City (between Lululemon and Bath & Body Works) beginning Black Friday to learn more about the experiences and mood maintenance that makes Woodhouse Spa so unique. To learn more about our massages, Hydrafacial services, body treatments, and mood care rituals, please visit woodhousespas.com or follow us on social to stay connected and learn more about special opening offers available this holiday season only! 
Facebook @Woodhouse Spa – Peachtree City and Instagram @woodhousepeachtreecity.
---
HOTWORX is a 24-hour infrared fitness studio with 15-30 minute low impact exercises done in a semi-private infrared sauna.  Our 11 different workouts are suitable for all fitness levels, whether you're starting today or deep into your fitness journey. Each HOTWORX session combines the benefits of infrared heat absorption and isometric body postures to maximize fitness results.
Infrared heat provides additional health benefits:
•
Increases Collagen Production
•
Reduces Cellulite: Firming, Tightening
Whether you're looking to polish off your regular workout routine or looking for new ways to live a healthier lifestyle, HOTWORX will be a major component of your fitness program. A variety of 11 different infrared sauna workouts are available 24 hours a day, 7 days a week.
For a tour of our studio or to try your first infrared sauna workout, call at 678-850-2876, come see us at 232 Commerce Drive, or visit our website at HOTWORX.net/studio/peachtreecity. We are located at the Westpark Walk shopping center between J. Christopher's and Pascal's Bistro.
---
Skin Care at 5th Ave., serving Atlanta, Fayetteville, Newnan, and surrounding communities, is a physician-driven, full-service skin care clinic equipped with advanced skin, laser, and injectable treatments. We offer comprehensive non-surgical procedures to improve the appearance of your face and body contours. Unlike a traditional medical spa where you seldom see the doctor, Dr. Joseph Galitzin is heavily involved in our clinic. Dr. Galitzin is a full-time clinician who is present for every part of your skin treatment, ensuring that you receive superior care that yields remarkable results. Complimentary Consultations by calling 770-487-2645 or visit www.skincare5thave.com. Happy Holidays!
---
Tonya Jones is not only a nationally acclaimed REALTOR®, but a passionate advocate for her clients and community. She founded Tonya Jones Group in 2023 with her son, Rhett Jones, as her business partner. Together, they specialize in Atlanta's Southern Crescent, a place both Tonya and Rhett have called home their entire lives. Tonya Jones Group is dedicated beyond the real estate transaction, focusing on the people involved and helping them achieve the American Dream of home ownership. The group's expertise includes Senior Adults, Investors, First-Time Home Buyers, New Construction, and Relocation. National networking allows Tonya and Rhett the opportunity to serve buyers and sellers nationwide.
Their philosophy of "being blessed to be a blessing" extends to their philanthropic efforts. Tonya Jones Group actively supports various local charities, as well as athletic teams and the arts at many local schools. In addition to their community involvement, Tonya serves on the Board of Directors for Southwest Christian Care and is The Sunshine Kids Ambassador for her BHHS office. Rhett is a regular volunteer at the MidWest Food Bank and Fayetteville First Baptist Church's Home Bound Ministry. Tonya and Rhett's commitment to their clients and community sets them apart, making them a top real estate group not only in Georgia, but nationally.
Shop The Nest is an independent store based in the beautiful town of Peachtree City, Georgia. Their style conveys southern charm along with unique pieces from across the world.
Shop local jewelry for Mom! Shop The Nest' enewton jewelry line was created by Elizabeth Newton and is made right here in Atlanta, GA. Every piece is elegant, empowering and effortless. Enewton is committed to quality materials, such as gold-filled materials that help save time – you can shower, sweat, swim and sleep in every piece! Visit www.thenestathome.com.
Shop The Nest is an independent store based in the beautiful town of Peachtree City, Georgia. Their style conveys southern charm along with unique pieces from across the world.
Shop local jewelry for Mom! Shop The Nest' enewton jewelry line was created by Elizabeth Newton and is made right here in Atlanta, GA. Every piece is elegant, empowering and effortless. Enewton is committed to quality materials, such as gold-filled materials that help save time – you can shower, sweat, swim and sleep in every piece! Visit www.thenestathome.com.
---
Happy Holidays!
The Peachtree City Moms
Caroline