Welcome to The Peachtree City Moms 2023 Health & Wellness Guide. The start of the New Year is the perfect time to re-assess our wellness goals! Grab a smoothie and take a look at some of these incredible local resources available to get us ready for a healthy 2023. Here's to a happy and healthy New Year!
---
ProHealth Physical Therapy and Pilates Studio (https://prohealthga.com/) offers expert PhysicalTherapy for all types of pain and Pilates exercise for all types of bodies. Movement heals. At ProHealth, we get people to a place where they can move with balance and strength. We offer both private and group Pilates sessions (https://prohealthga.com/schedule/).
ProHealth Physical Therapy and Pilates Studio was found in 2005 by Dr. Karyn Staples, PT, PhD, NCPT. She leads a staff of over a dozen physicaltherapists, physical therapist assistants, Pilates teachers, and office support staff in providing effective research-based therapies and exercise. To learn more about Dr. Staples teaching style, check out her Vimeo page (https://vimeo.com/drkarynstaples).
---
Verlo
Mattress
– Peachtree City is locally owned and operated by Jeff & Debbie Koldoff, who opened in 1989. Jeff had previously been the General Manager of
Verlo
's first franchise location in the midwest,
Verlo
is a national
mattress
brand, with locations individually owned and operated, and all
mattresses
are built one at a time, on site, which enables
Verlo
to build better quality at a better price.
---
Dr. Mobley and Dr. Pannell and their highly trained, nurturing staff understand the importance of establishing a good oral care regimen early
in your child's life. Therefore, we provide a positive, pleasant dental experience and equip your child with the knowledge necessary to achieve exceptional oral health.To ensure that your child grows up with a healthy smile, we offer regular check-ups as well
as sealants, fluoride treatments, mouthquards and
sedation for anxious patients. We appreciate your interest in our practice. If you have any questions, please contact us or come by one of our two
conveniently located offices. We look forward to meeting you and your child! To book an appointment, visit www.peachtreepediatricdentistry.com
---
Thanks to the modern sedentary lifestyle, starting in your 30s, most people start losing flexibility at an average rate of 1% a year. Strains and micro-stresses on your muscles compounded over time can glue them together. This "glue," or scar tissue, tightens the surrounding tissue and restrains how you're able to move. Over time, the snowballing loss of flexibility ages you.
Stretch Zone's isolation of individual muscles within a muscle group breaks up the glue, unwrapping the strangle hold on your posture and valuable energy. Proper stretching slows down the aging process. You can even feel younger by improving posture, circulation, and pain-free full range of motion.
Enhance Athletic Performance
Discover and Enhance Physical Abilities. Assisted stretching shouldn't only be applied as a warmup or cool down exercise. You can unlock greater physical ability as an athlete when you reach optimum functional flexibility.
Greater Reaction Time. A flexible system is an open system, awakening natural and instinctual movements that require less thought and faster reaction time. You can develop an enhanced sensory awareness of your surroundings.
Spatial Awareness. Athletes who are introduced to practitioner-assisted stretching learn their bodies limitations. That allows you to better assess the state of your muscles and injuries. Spatial awareness also provides a sense of control and confidence, ultimately determining peak performance.
When flexibility training is done properly, and the integrity of connective tissue and muscle is maintained, you can increase your active range of motion. You'll be able to execute movement without excessive tension and decrease resistance in extended muscles. This way, the Stretch Zone Method® serves as a safeguard against injury.
We are offering for first time clients to come try us for free! Simply go to www.stretchzone.com and register. We will reach out to schedule you shortly after.
---
---
Every Mom deserves an hour of "me" time. Here in Peachtree City you can spend an hour boosting your serotonin, relieving stress, and creating the best version of yourself under the orange lights of Orangetheory Fitness!
Orangetheory has created an environment that is welcoming to all. We offer one hour heart-rate based group fitness classes that are led by a certified coach, seven days a week. In one hour you are able to give your body everything it need from cardio, to strength training, and ending with flexibility work.
Call today to book your free class: 678-263-3086. Located at 130 Peachtree East Shopping Ctr, Suite 140.
---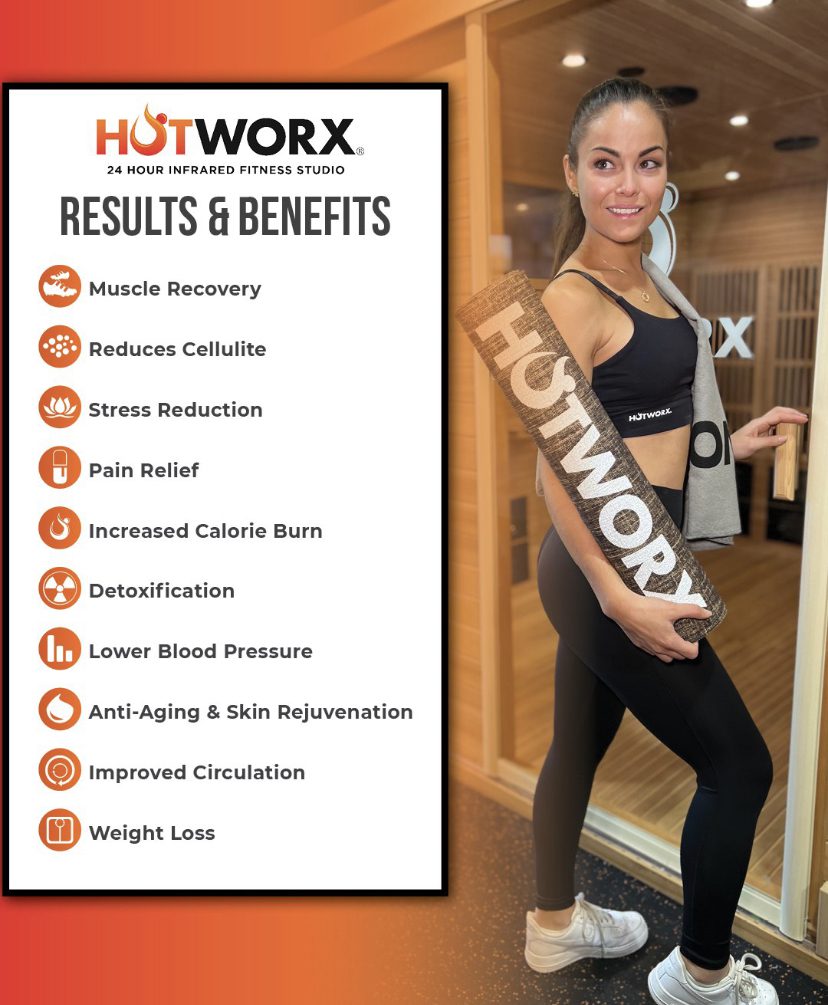 HOTWORX is a virtually instructed exercise program that combines the benefits of infrared sauna therapy and isometric body postures in a sequence to give you the perfect 30-minutes isometric session or 15-minutes of HIIT (High Intensity Interval Training).  Our program combines heat, infrared, and exercise– what we like to call "3D Training."
3D TRAINING
•
HEAT
– When your core body temperature rises, there is an anabolic effect that speeds up your metabolism. Another heated workout advantage is that less time is required for warm ups in a heated studio.
•
INFRARED ENERGY
– Infrared energy has the effect of strengthening and activating the regenerative processes in the human body. This is why workouts in an infrared energy environment can help to accelerate workout recovery.
•
EXERCISE
– Two forms of exercise work very well inside of the HOTWORX infrared sauna – Isometrics and HIIT. With isometrics, a variety of methods can be used, such as yoga and
P
ilates. With HIIT (High Intensity Interval Training), a short 15-minute routine with a cycle or row will provide just the right amount of workout results when combined with heat and infrared energy.
The benefits of infrared sauna therapy are well documented.  These benefits include:
•
Weight Loss; Increased Calorie Burn
•
Anti-Aging & Skin Rejuvenation
Whether you're looking to polish off your regular workout routine or looking for new ways to live a healthier lifestyle, HOTWORX will be a major component of your fitness program. A variety of 11 different infrared sauna workouts are available 24 hours a day, 7 days a week.
For a tour of our studio or to try your first infrared sauna workout, give us a call at 678-850-2876, come see us at 232 Commerce Drive, or visit our website at HOTWORX.net/studio/peachtreecity
---
New Location: 401 Dividend Dr. Suite K
21-minute exercise equivalent to 1 1/2 hours of traditional exercise
No need to shower afterwards, no sweating, no soreness
Looking for motivated groups of 3-5 ladies
Intro to Vasper Technology video:
Mention PTC Moms for a FREE week trial
Experience an intensive 21-minute workout equivalent to 1 1/2 hours of traditional exercise using the revolutionary VASPER TECHNOLOGY. Then lay down for 10 minutes on BEMER TECHNOLOGY to recover while enhancing blood flow and healing. The best part is you will not be sore or need to shower after! 35 minutes in-and-out the door. Save time and get back to what you love doing most with more energy, faster metabolism, and better sleep at Laboratory Fitness.
---
Hi! 👋🏻! I'm Blaire, Licensed Aesthetician + Bridal Specialist. Happiness for me is seeing amazing results in your skin & helping you to find confidence in your beauty. ❤️ I've been working in this industry for over 7 years. It started with a love for makeup, which led me to event hairstyling and eventually saw me through getting my aesthetics license, where I learned that skincare is the first step in finding your beauty. Not only do I care about your skin health, but I care about YOU ✨You can find me located inside The Opal Room salon for all your beauty and skincare needs. Can't wait to meet you! For more information or to make an appointment, visit theopalroom.glossgenius.com.
---

Our Mission is to make Hyper Wellness accessible and affordable for people committed to feeling their best. Click here for more information!
---
Omega Med Spa is a premier med spa located in Fayetteville, Georgia, led by Betsy Horton, MD, and Marley Bonnanzio, LE, LCLT. They offer advanced medical spa services to help patients achieve the youthful beauty they long for. The Omega Med Spa team specializes in dermal fillers, cosmetic injectables, body sculpting, laser treatments, and bioidentical hormone replacement therapy. At Omega Med Spa, Dr. Horton and Marley perform an array of anti-aging and youth-preservation treatments. Marley also treats a variety of skin conditions, including rosacea, eczema, psoriasis, and acne, by combining nutritional optimization with aesthetic treatments, which produces lasting results.
For added patient convenience, the Omega Med Spa team offers in-house labs and the latest innovative technology and aesthetic procedures. They provide WarmSculpting™ with SculpSure®, permanent makeup, BioTE®, fibroblast, microneedling, BOTOX®, laser hair removal, chemical peels, acne treatments, and much more. Omega Med Spa is where timeless beauty begins. The skilled aesthetic specialists help patients combat unwanted signs of aging and prepare them for a comfortable, relaxed, and educated experience. Dr. Horton and her team welcome patients to Omega Med Spa and look forward to helping them achieve beautiful skin and smooth, refined body contours. You can book an appointment today by visiting www.omegamedspa.com.
---
Kale to the Chef wants to make being healthy easy, fun, and delicious! Located right in the heart of Peachtree City, Kale to the Chef provides delicious healthy meals for individuals and families—utilizing local farms when possible—and delivering them right to your door. They provide "Catering to your Health" for any event, and they also have "The Gift of Health" which allows you to order a complete meal or a gift card to send to anyone for all of life's events. The Owner and founder, Lisa Hand, is a certified personal trainer, and health and fitness coach. As a wife and mother of five, she has always been passionate about health and fitness, and with her love of food and cooking, Kale to the Chef was born! She has a great interest in all things anti-aging and uses that in her training and coaching, and of course, in her cooking. Lisa's mission, through Kale to the Chef, is to truly help individuals and families looking to become the best version of themselves! As Lisa says "It's a lifelong journey, but it's very attainable with a little determination. It's fun, it's rewarding, and best of all, it's a legacy of a life well-lived." Kale to Chef is opening a new cafe at 101 Crossings East in Peachtree City, GA. Call 678-300-9407, email lisahand@kaletothechef, or visit www.kaletothechef.com.
Welcome to the Kale to the Chef Cafe!
The Kale to the Chef Cafe is the healthy alternative. We offer nutritious meals that are really good for you! We offer healthy meals from Avocado Toast, Stuffed Sweet Potato, Nourish Bowl and so much more . We also offer coffees, lattes, and Kombucha in the can or on tap!
---
Peachtree City Eye Center is an independent optometry practice that has been serving the community since 1975. Their highly trained and experienced doctors offer comprehensive eye exams, which include detection and management of ocular disease, glasses, and contact lens prescriptions.
Peachtree City Eye Center carries high quality eyewear and their opticians are trained to find the perfect pair of glasses depending on face shape and prescription. They have state-of-the-art equipment, which includes the Optomap machine that takes pictures of the back of the eye in lieu of dilation drops in many instances.
"We hope to see you soon at Peachtree City Eye Center. We take pride in our customer service and would love to see you and your family soon for all your eyecare needs." Dr. Divya Bhakta
To make an appointment, visit www.ptceyecenter.com.
---
Our newest Sentinel Health and Wellness team member is Baldur, a 134-pound Great Pyrenees named after the Norse god of innocence, beauty, and goodness. He has been cross trained to perform therapy tasks for patients who visit our office. One of those tasks is to offer deep pressure therapy. This type of therapy can stimulate the parasympathetic nervous system response, helping to calm the body and pull it out of fight-or-flight dominance, and is a perfect complement to a chiropractic adjustment.
When not actively performing therapy, his favorite jobs in the office include putting waste into the trash cans, being super cute, giving hugs, and cuddling with the younger set while mom or dad are getting a chiropractic adjustment. Visit www.sentinelptc.com.
---