We all want our children to have every opportunity to reach their fullest potential. So whether they're having difficulty in a subject, struggling with a disability, preparing for a standardized test, applying to college, or simply want to improve their grades, we want to be sure our children have the support they need to succeed and achieve their goals! To help, The Peachtree City Moms has compiled a list of local educational resources including local schools, consultants, and local tutoring available to offer extra academic support this 2022/23 school year.
Thank you to Southern College Consulting for Sponsoring this Guide! 
Choosing a college and getting through the admissions process can be very stressful for parents, their college-bound kids, and the entire family. There are a lot of moving pieces, deadlines, and emotions to deal with.
Hi, I'm Kelly DuBreuil and that's why I started Southern College Consulting – to organize and prioritize the moving pieces, manage the deadlines and be a neutral space for all those feelings. I'm here to relieve the stress and help your student (and you) enjoy their final year of high school.
Southern College Consulting provides focused time and attention for YOUR student to help them reach their goals. This includes personalized and expert guidance regarding college lists, writing essays, completing applications, and applying for scholarships and financial aid.
I invite you to schedule an introductory meeting to see if Southern College Consulting is the right choice for you and your student. For more information or to schedule a consultation, visit www.southerncollegeconsulting.com
---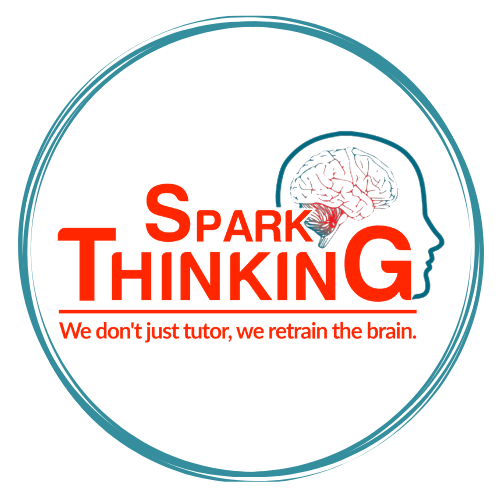 SPARK THINKING LEARNING SYSTEMS MULTISENSORY IN-PERSON & ONLINE TUTORING 
Specialized PreK3 – 12 Grade Personalized Tutoring-Gillingham Reading & Spelling – Multisensory Math – Comprehension. Get the right instruction for your child who struggles with basic skills or has an IEP, Dyslexia, ADD, ADHD, or LD. Traditional tutoring means worksheets and guessing strategies. For a child on an IEP, with Dyslexia, ADD, ADHD, or LD, it's a recipe for even more frustration, conflict, and resistance to the help that you know they need. Traditional tutoring doesn't work for struggling students and those with Dyslexia, ADD, ADHD, and LD. Our team of passionate team of career teachers who have already helped hundreds of children leave behind their IEP and learning struggles. We help your child build the foundational skills they need to love learning and thrive in the classroom. Spark Thinking's approach is innovative and fun:
1.
We use science-based diagnostics to identify weak learning skills.
2.
We create a personalized learning plan to help your child make progress and build your child's confidence.
3.
We use proven, fun, multisensory tools that work for children who learn differently.
The RESULTS? Hundreds of INDEPENDENT, enthusiastic learners who have caught up to grade level.  For more than a decade parents and educators have trusted us to help their children succeed. No Long Term Contract. How simple is that? Call 770-716-0224 or visit www.sparkthinking.net  to request a free consultation and learn how our tutoring could help.
Get $25 off registration fee when you mention PTCMOMS25
---

"Let Point

University

be your child's option for dual enrollment! Point

University

is a SACSCOC accredited

university

that offers traditional and dual enrollment courses.
We are pleased to offer dual enrollment options for over 800 students across the state of Georgia! 
Did you know your child can take dual enrollment classes right here in Peachtree City? We are located at 800 Commerce Drive. We have a site dedicated solely to high school students. We offer courses such as English, Psychology, History, College Algebra,  Pre-Calculus, and more!  Our class offerings will fit with your student's busy schedule. For more information go to https://point.edu/peachtree-city-site/ or call 
(678) 593-3118."
---

Foundry
Academy offers
a
cutting edge, creative curriculum, taught by passionate, expert teachers in small classes. Students grades 6-12 work in an engaging, unique educational environment that focuses on excellence in academics through exciting projects that make learning relevant.Instead of using
a
standardized teaching approach, we combine research-driven teaching methods that push learning beyond
the
walls of our building into
the
community to ensure that students have an engaging and dynamic education that prepares them for
the
rigors of college and beyond.Through authentic learning and individual attention, your child will be challenged, have fun, and discover their passions and potential.Part-time and full-time options are available.  Contact us to learn more!
---
Leadership. Character. Civility.
Since 1879, Georgia Military College has been transforming our students into effective leaders and engaged citizens, grounded in civility and respect for others. Our time-honored values of Duty, Honor, Country and Character Above All are imparted to those we serve.  Attending GMC is about more than earning a degree – our graduates are prepared to make a difference in the world.
Beginning in Kindergarten all the way through fifth grade, GMC Preparatory School students learn and recite the Pledge of Allegiance daily. In addition, our Middle School, High School, and Junior College Corps of Cadets gather at morning formation to stand at attention during the playing of reveille, render the military hand salute as the United States Colors are raised and recite "Duty, Honor, County" and "Character Above All" proudly. Inside our classrooms, GMC teachers and professors are dedicated to educating our students about America's founding document- the Constitution of the United States of America, our Founding Fathers, and the responsibilities they must uphold as citizens of the U.S.A.
GMC believes that teaching, understanding, and honoring the Constitution is an important part of being a responsible U.S. citizen which is why we will continue to instill patriotism into our students, the future leaders of our great Nation. For more information, visit www.gmc.edu/campuses/fayetteville/
---
When it comes to educational opportunities for our children, flexibility is key! Virtual Learning can be highly adaptable and often a more efficient way to meet students where they are academically, emotionally, and socially. Kids can learn on their own schedule, and accelerate on their own timeline.
Our list of virtual educational activities includes Writing Skills, Public Speaking, Arts & Crafts, Woodworking, Language Programs, Coding Classes, Movie Production Workshops, SAT/ACT Test Prep, Science Activities, Acting Classes, and More! We hope your family takes advantage of some of these amazing opportunities, right in your own home. You can check out the full list HERE!
---
For additional School information in the area, check out our Schools Resource Page linked HERE!