Happy Holidays from The Peachtree City Moms! Our 2022 Holiday Guide is here to bring you a curated list of local businesses and providers to help you enjoy the Holidays like a Local!  It's these local businesses that help provide growth and culture to our town. I hope you enjoy perusing the Holiday Guide but more than anything, I hope it inspires you to shop local!
---

We create beautiful hair for busy people with the link https://trimzonawhim.com/peachtree-salon
---
As a busy mom there's little doubt that selling your home can feel stressful. You have to know how to assess the market and properly execute all the steps in the home-selling process in a reasonable timeline so you're not left without a home. Add to that the fact that you likely have a million and one things going on—juggling home activities and a demanding job. You don't have time to handle all the ups and downs of real estate, or worse, risk leaving money on the table. I can help.
 You are looking for an experienced and knowledgeable agent with proven results to help walk you through the selling process and make sure you're capturing all the equity you deserve. I work tirelessly for my clients because I know how stressful it can be to manage a home sale while you're trying to purchase your dream home and balance home life. My service-oriented nature, strong negotiation skills, and resourcefulness are precisely why my clients choose to work with me.
Let's take selling your home off your to-do list and put it on mine.
Visit www.jennifertalbertrealtor.com.
---
Christmas Tree Shops is your one-stop holiday shop. As a value brick-and-mortar home goods retailer specializing in seasonal products, The Christmas Tree Shops experience revolves around a trend-right, always-changing mix of merchandise that makes each customer visit a shoppingadventure of anticipation and delight. The 50-year-old company has roots in the Northeast, with the first store on Cape Cod, Massachusetts, and today operates 81 stores in 20 states. With the largest holiday assortment yet this season, find more merry and spend less at your nearest store. Happy CTS-ing™! We hope to see you soon. Visit www.christmastreeshops.com
---
We're Atlantas largest pottery outlet. We specialize in the unique and hard to find. We offer a large selection  of succulents, perennials and select indoor plants. Largest selection of concrete statuary you'll find made in the USA (Most in Georgia). 
Holiday special: Take $10 dollars off when you spend $100 or more and $50 dollars off when you spend $250 or more! Visit www.jamndesigns.com.
Visit www.jamndesigns.com.
---
Tis the Season for Hospitality! Hospitality is all about the art of entertaining and receiving guests…and that's what we do best! At Murphy Lane, we strive to show our Southern hospitality to all of our guests, starting with our bride and groom. We welcome their families and friends to their BIG DAY with friendly smiles and happy hearts and treat our guests like they are family. As you enter through the black iron gates and travel down the long winding driveway into our stunning property, you will feel yourself relax and become one with the surrounding 88 acres of our countryside estate, setting the tone for the celebration to come.
Whether you are planning a romantic elopement, an intimate micro-wedding of 50 or less guests, or a larger wedding or gala, The Venue at Murphy Lane offers the ideal setting to welcome your guests with Southern hospitality. No matter what the season, you will find inspiring photo opportunities around every corner that you will treasure for a lifetime. Making memories together with your friends and family is priceless! Our gorgeous farmhouse style barn features majestic 16 ft. barn doors that open to 12 ft. wooden and glass doors, white-washed shiplap walls, custom ceramic tile flooring, a grand crystal chandelier, beautiful ivory draperies, comfortable bathrooms and a spacious catering kitchen. Our fabulous 3,000 square ft. pave stone partially covered patio with wrought iron chandeliers, bistro lights, beautiful patio lounge furniture and fire pit tables offers the perfect outdoor living space to relax and visit with other guests. A true marriage of Southern charm and sophistication! Visit www.thevenueatmurphylane.com
---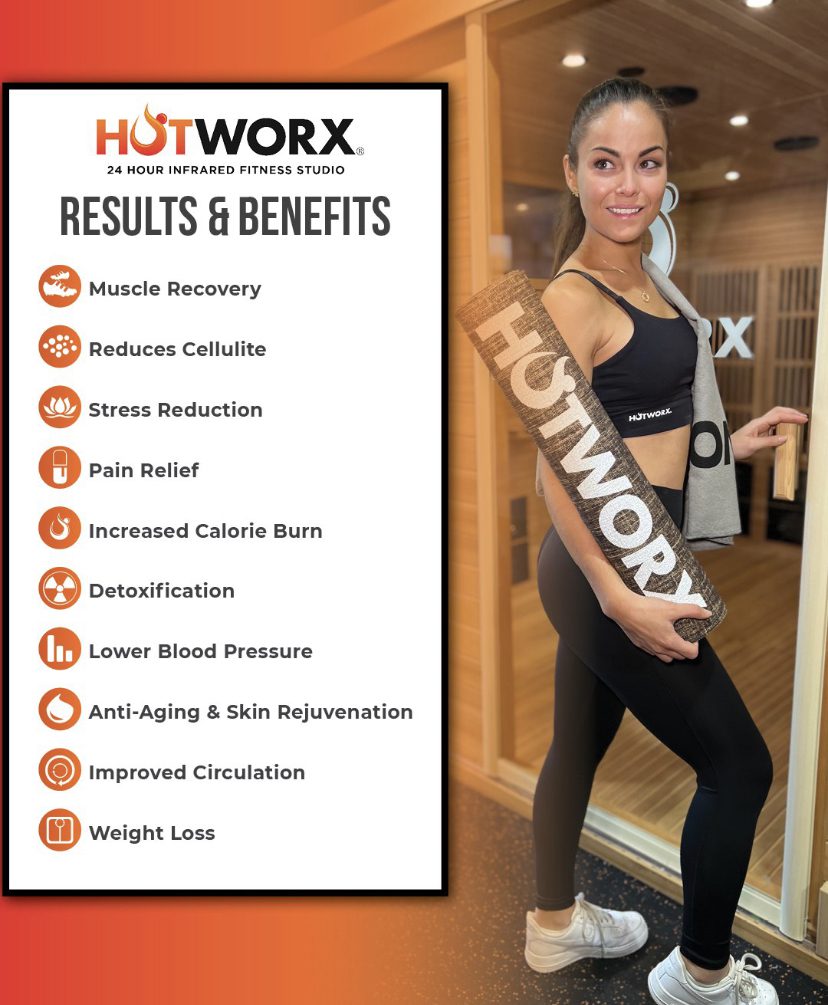 HOTWORX is a virtually instructed exercise program that combines the benefits of infrared sauna therapy and isometric body postures in a sequence to give you the perfect 30-minutes isometric session or 15-minutes of HIIT (High Intensity Interval Training).  Our program combines heat, infrared, and exercise– what we like to call "3D Training."
3D TRAINING
•
HEAT
– When your core body temperature rises, there is an anabolic effect that speeds up your metabolism. Another heated workout advantage is that less time is required for warm ups in a heated studio.
•
INFRARED ENERGY
– Infrared energy has the effect of strengthening and activating the regenerative processes in the human body. This is why workouts in an infrared energy environment can help to accelerate workout recovery.
•
EXERCISE
– Two forms of exercise work very well inside of the HOTWORX infrared sauna – Isometrics and HIIT. With isometrics, a variety of methods can be used, such as yoga and
P
ilates. With HIIT (High Intensity Interval Training), a short 15-minute routine with a cycle or row will provide just the right amount of workout results when combined with heat and infrared energy.
The benefits of infrared sauna therapy are well documented.  These benefits include:
•
Weight Loss; Increased Calorie Burn
•
Anti-Aging & Skin Rejuvenation
Whether you're looking to polish off your regular workout routine or looking for new ways to live a healthier lifestyle, HOTWORX will be a major component of your fitness program. A variety of 11 different infrared sauna workouts are available 24 hours a day, 7 days a week.
For a tour of our studio or to try your first infrared sauna workout, give us a call at 678-850-2876, come see us at 232 Commerce Drive, or visit our website at HOTWORX.net/studio/peachtreecity
---
Jim Davis-Johnson started in the window coverings industry in 1996 and started his design firm in 2015 and has seen great success which can be attributed to his eye for design and impeccable standards. As a testament to the quality of product and service, his business has grown over the years purely through word of mouth and referrals. Their reputation in the community and online reviews are consistently stellar, as no project is complete until they are up to Jim's pristine standards.

The business heritage can be traced back and attributed to his mother, who with equal zeal and ambition set out to establish herself in the space with Blinds Unlimited. The quality of service that runs in the family business is unparalleled not only in service and the stunning results of their installations, but the zealous passion for the creative process that goes behind each and every install. We offer both a mobile and a brick-and-mortar showroom. Our mobile showroom is what we'll bring with us to your initial consultation. We'll provide samples and fabrics that offer you a variety of styles and options. Our collection includes manual and motorized window treatments, custom shades and draperies, as well as an array of fabrics, decorative hardware, and trims. Likewise, you can schedule a consultation at our Showroom in Atlanta should you want to come by and see a variety of products and options we have displayed.  For more information or to book a consultation, please visit www.jimdavisdesigns.com
---
With our general contractor/designer combo, Hammertime will be your one-stop-shop for your next remodel.
Consultations with our contractor and designer will help to nail down your custom design and project scope.
Full-color 3D rendering drawings, complete with floor plans, cabinetry layouts, and fixtures & finishes, will give you a visual of your project before ever starting construction.
You will have access to quality vendors, including a line of KraftMade Cabinetry with specialty finish options.
Our contractor will take care of applying for permits, passing inspections, and managing all subcontractors.
Our team will be responsible for ordering and managing all your approved fixtures and finishes.
Your schedule, payments, and project details will be easily accessed through our online BuilderTrend Client Portal.
For more information or to schedule a consultation, call (678) 856-4680 or visit HammertimeGA.com.
---
The Avenue Peachtree City is ready to get you into the holiday spirit this holiday season!
Save the dates and find additional details @theavepc.
Make sure to visit The Avenue's Christmas photo-ops and pop-up holiday retailers Heirloom Market Co. and Southern Goods.
11/25 Black Friday Giveaway 8A (while supplies last)
11/28 Holiday Photos with Santa 5-7P
12/3 Christmas Carolers 11A-2P
12/4 Roaming Character Selfies 1-3P
12/5 Holiday Photos with Santa 5-7P
12/5 Christmas Concert 7-9P
12/10 Roaming Character Selfies 1-3P
12/11 Christmas Carolers 2-5P
12/12 Holiday Photos with Santa 5-7P
12/17 Christmas Carolers 11A-2P
12/18 Roaming Character Selfies 1-3P
12/19 Holiday Photos with Santa 5-7P
12/19 Christmas Concert 7-9P
12/31 Noon Year's Eve 10A-1P
Visit www.avenuepeachtreecity.com.
---

Skin Care at 5th Ave., serving Atlanta, Fayetteville, Newnan, and surrounding communities, is a physician-driven, full-service skin care clinic equipped with advanced skin, laser, and injectable treatments. We offer comprehensive non-surgical procedures to improve the appearance of your face and body contours. Unlike a traditional medical spa where you seldom see the doctor, Dr. Joseph Galitzin is heavily involved in our clinic. Dr. Galitzin is a full-time clinician who is present for every part of your skin treatment, ensuring that you receive superior care that yields remarkable results. Complimentary Consultations by calling 770-487-2645 or visit www.skincare5thave.com. Happy Holidays!
---

Tis the Season for shopping unique, affordable fashion with new arrivals daily! Since 1981, Lizard Thicket has provided the latest and most fashion forward styles and accessories at surprisingly affordable prices. We believe in providing our stylish clientele with pieces that help them feel confident and unique as they are. Their mission is to provide the most fashion forward styles at great prices while providing outstanding customer service to each and every customer. Stop by to meet the Lizard Thicket PTC team today! I promise you will walk away feeling like a million bucks. They are open 10-7 Mon.-Sat. // 12-5 Sun. and located at 1253 N. Peachtree Parkway, Peachtree City, GA.
---

Hey Cheeksters!! Here at Cheeky Bums we want everyBODY to feel welcome and leave even more beautiful than they came. We provide all wax services, dermaplaning, tinting services and even a little free "therapy".
If you've ever debated waxing but not too sure, come check us out. We are located close to the downtown in the sweet town of Senoia. So what are you waiting for….let's get
cheeky
and be hair free! Visit  
www.cheekybumswaxstudio.com
---
Give yourself the gift of self-care and relaxation this holiday season! Our lashes and brows are beautiful, low maintenance, and completely customizable for any holiday occasion.
Book today at dekalash.com and receive $20 OFF any initial full setplus a complimentary under eye treatment or lip mask (while supplies last) … use the promo code PTCMOM.

Don't forget your family and friends!  Deka Lash gift cards are perfect foranyone especially the lash and brow lovers in your life. Offer valid for new clients from November, 2022 through December 31, 2022 at the Peachtree City location only (IG: @dekalashpeachtreecity).
Visit https://dekalash.com/find-a-studio/georgia/peachtree-city.
---
Family Photos/ Santa Sessions/ Weddings/ Seniors/ Newborns/ Smash Cakes
Kara ,of Add Imagery Photography, will capture it all.
Kara graduated from McIntosh High School and attended Georgia State University where she earned a Bachelor's Degree in English.  Six years ago, she quit the corporate world to follow her creative dream of transforming your best moments into tangible, forever, visual stories.
Add Imagery now has openings for White Studio Santa Sessions, Tree Farm Minis,  Christmas Wreath Minis, Black Friday family sessions and many other options.
---


Founded by Fred Smith and Ronald Davis in 1965, Smith and Davis Clothing began providing work wear, shoes and dress apparel for the mostly rural communities of Fayette, Coweta, Clayton and Fulton Counties. The Davis Family is still here on a daily basis to make sure that customers are treated just as well as they have been since the 60's. As everything changes, we'd like to make sure that one thing doesn't: Always know that you'll get top quality products at a fair price (and we guarantee it.) If you need one of us, there will always be a Davis in the building to take care of you!
Good old fashioned customer service never goes out of style at Smith & Davis. We still measure and fit shoes, and do everything we can to ensure that you leave a satisfied customer. Visit https://smithdavisclothing.com/
We Hope To See Y'all Soon!
– The Davis Family
---
Pride Road LLC is a family owned and operated food manufacturing company that produces all natural locally grown Hibiscus based products. Our Hibiscus begins from seeds collected from the previous season's harvest. These seeds are grown into transplants and planted at local Georgia farms. The harvesting process requires that each calyx is individually hand-picked and cored where they are processed and packaged locally at our multi-processing facility located in Lithonia Georgia.
The Georgia climate offers an ideal environment for Hibiscus growth. We only give our plants the best possible feed, Sun and Rain and Georgia has plenty.
Pride Road believes in using only the very best quality ingredients, where it really matters. We take Pride in harvesting and delivering our products to the customer while cultivating trusted relationships with local farmers. A tropical plant, Hibiscus Sabdariffa, of the mallow family, grown for its thick, red calyx and bracts, grows with white to pale yellow flowers that have a deep red spot on each petal. The plant produces bright red fruit as it matures, which takes about six months. The part of the plant that is edible are the calyxes of the Hibiscus flower which can be used to make a variety of jams, sauces, and teas.
Pride Road Hibiscus Peach Chutney is made from our own hand-picked Georgia Grown Hibiscus!  Hibiscus Peach chutney is the perfect flavor enhancer for all prepared meats, veggies, and desserts! Our Hibiscus Peach Chutney is the perfect addition and crowd pleaser for your holiday meals.
For more information and/or to order, visit www.prideroad.com
---
Kale to the Chef wants to make being healthy easy, fun, and delicious! Located right in the heart of Peachtree City, Kale to the Chef provides delicious healthy meals for individuals and families—utilizing local farms when possible—and delivering them right to your door. They provide "Catering to your Health" for any event, and they also have "The Gift of Health" which allows you to order a complete meal or a gift card to send to anyone for all of life's events. The Owner and founder, Lisa Hand, is a certified personal trainer, and health and fitness coach. As a wife and mother of five, she has always been passionate about health and fitness, and with her love of food and cooking, Kale to the Chef was born! She has a great interest in all things anti-aging and uses that in her training and coaching, and of course, in her cooking. Lisa's mission, through Kale to the Chef, is to truly help individuals and families looking to become the best version of themselves! As Lisa says "It's a lifelong journey, but it's very attainable with a little determination. It's fun, it's rewarding, and best of all, it's a legacy of a life well-lived." Kale to Chef is opening a new cafe at 101 Crossings East in Peachtree City, GA. Call 678-300-9407, email lisahand@kaletothechef, or visit www.kaletothechef.com.
---
Omega Med Spa is a premier med spa located in Fayetteville, Georgia, led by Betsy Horton, MD, and Marley Bonnanzio, LE, LCLT. They offer advanced medical spa services to help patients achieve the youthful beauty they long for. The Omega Med Spa team specializes in dermal fillers, cosmetic injectables, body sculpting, laser treatments, and bioidentical hormone replacement therapy. At Omega Med Spa, Dr. Horton and Marley perform an array of anti-aging and youth-preservation treatments. Marley also treats a variety of skin conditions, including rosacea, eczema, psoriasis, and acne, by combining nutritional optimization with aesthetic treatments, which produces lasting results.
For added patient convenience, the Omega Med Spa team offers in-house labs and the latest innovative technology and aesthetic procedures. They provide WarmSculpting™ with SculpSure®, permanent makeup, BioTE®, fibroblast, microneedling, BOTOX®, laser hair removal, chemical peels, acne treatments, and much more. Omega Med Spa is where timeless beauty begins. The skilled aesthetic specialists help patients combat unwanted signs of aging and prepare them for a comfortable, relaxed, and educated experience. Dr. Horton and her team welcome patients to Omega Med Spa and look forward to helping them achieve beautiful skin and smooth, refined body contours. You can book an appointment today by visiting www.omegamedspa.com.