We all want our children to have every opportunity to reach their fullest potential. So whether they're having difficulty in a subject, struggling with a disability, preparing for a standardized test or simply want to improve their grades, we want to be sure our children have the support they need to succeed and achieve their goals! To help, The Peachtree City Moms has compiled a list of Tutoring Companies, Speech Therapists, Occupational Therapists, and Counseling Services who are all available to offer extra academic, physical, and emotional support this 2021/22 school year.
---
Spark Thinking
"We Don't Just Tutor, We Retrain The Brain."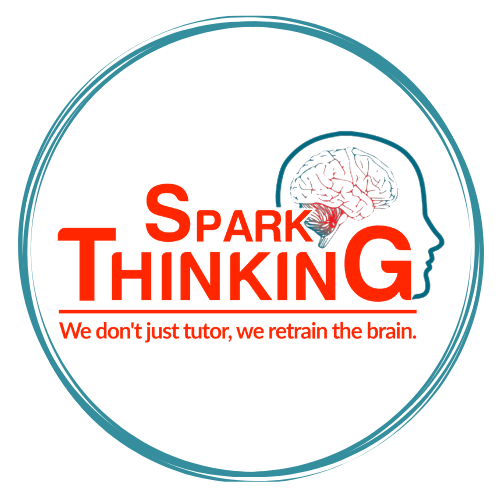 SPARK THINKING LEARNING SYSTEMS MULTISENSORY IN-PERSON & ONLINE TUTORING 
Specialized PreK3 – 12 Grade Personalized Tutoring-Gillingham Reading & Spelling – Multisensory Math – Comprehension. Get the right instruction for your child who struggles with basic skills or has an IEP, Dyslexia, ADD, ADHD, or LD. Traditional tutoring means worksheets and guessing strategies. For a child on an IEP, with Dyslexia, ADD, ADHD, or LD, it's a recipe for even more frustration, conflict, and resistance to the help that you know they need. Traditional tutoring doesn't work for struggling students and those with Dyslexia, ADD, ADHD, and LD. Our team of passionate team of career teachers who have already helped hundreds of children leave behind their IEP and learning struggles. We help your child build the foundational skills they need to love learning and thrive in the classroom. Spark Thinking's approach is innovative and fun:
1.
We use science-based diagnostics to identify weak learning skills.
2.
We create a personalized learning plan to help your child make progress and build your child's confidence.
3.
We use proven, fun, multisensory tools that work for children who learn differently.
The RESULTS? Hundreds of INDEPENDENT, enthusiastic learners who have caught up to grade level.  For more than a decade parents and educators have trusted us to help their children succeed. No Long Term Contract. How simple is that? Call 770-716-0224 or visit www.sparkthinking.net  to request a free consultation and learn how our tutoring could help.
Get $25 off registration fee when you mention PTCMOMS25
---
Interactiv Children's Therapy Services
Interactiv Children's Therapy Services (ICTS) has been in the business of helping kids since 2001. What started as a home-health service has quickly grown into a full-service therapy clinic, offering innovative and effective Occupational and Speech therapy for children of all types and challenges.
At ICTS, we look beyond the physical and mental challenges our children face and help them address the underlying issues. We are experts in child development. By utilizing state-of-the-art equipment and innovative treatment techniques, our therapists work with children and their families to help improve quality of life, increase functional independence and communication, and develop age appropriate skills and behaviors.
Our facilities have been acclaimed by many as some of the finest in Georgia. We have a wide range of equipment, including numerous swings of all shapes and sizes, bolsters, stairs, tunnels, ramps, crash pads, a rock wall, slides… we even have a "flying purple people eater" (a kid-approved favorite)! We utilize several computer-based programs as well, including the Sensory Learning Program—an alternative intervention that is one of the most comprehensive programs available to address Sensory Processing issues. The following is a list of the services and programs available at ICTS:
Occupational Therapy
Speech Therapy
Comprehensive Evaluations
Sensory Learning™ ‡
NeuroNet™
Interactive Metronome™ ‡
Therapeutic Listening™ ‡
SIPT Evaluations ‡
Handwriting Programs
Intensive Summer Programs (limited availability) ‡
Hippotherapy (therapy on horseback, seasonal) ‡
Aquatic Therapy (seasonal)
Rhythmic Movement Training
Kawar Rotational Vestibular Training
Wilbarger Deep Pressure Brushing Protocol
‡ Indicates a program where additional fees may apply.
For more information or to schedule an appointment, Visit www.ictsonline.com.
---
Huntington Learning Center
TUTORING K-12
Reading, Math, Study Skills, Writing, Phonics, Vocabulary
Algebra, Calculus, Geometry, Trigonometry, Science, Biology, Chemistry, Physics
---
Communicare Therapy Services, Inc.

Communicare Therapy Services, Inc. offers a wide-range of therapy and treatment services for all speech and language disorders. Our staff is American Speech and Hearing Association certified and state-licensed to practice speech and language pathology. 
We specialize in Apraxia, Feeding/Oral Motor Disorders, Autism, Articulation and Language Delays, and Occupational Therapy.
Evaluations and therapy are available in the following areas
:
Apraxia
Aphasia
Auditory Processing Disorders
Autism​ Spectrum Disorders
Cerebral Palsy, 
Down Syndrome
Dysarthria, Evaluations for Augmentative Communication Devices
Language Processing Disorders
Oral-Motor Disorders
Pediatric Speech Disorders
Receptive and Expressive Language Delay
Stroke Recovery
Stuttering​
Swallowing Disorders
Voice Disorders
---
Serenity Tree Counseling
Individual counseling, group programs, and support for kids, moms or dads.
Serenity Tree Is here to offer you and your family a sense of self and balance.
From Cognitive Behavioral Therapy, Expressive Arts Therapy, Groups to Individuals Serenity Tree offers a safe secure space to explore your better self. We address the entire individual and offer:
Accupuncture
Massage
Individual Therapy
Group Therapy
Mom Groups
Parent Support
Anxiety Guidance and Treatment Plans
Explore what we can do for you and your family at Sereity Tree
Happier, Healthier, Stronger
---
Brain Balance – Peachtree City
Brain Balance offers a holistic and whole body approach that helps kids break through social, behavioral, academic barriers improving their focus, behavior, social skills, anxiety, and academic performance. Our comprehensive programming incorporates learnings from cognitive, behavioral and nutrition fields—an integrated approach that is literally redefining what's possible.
Is something blocking your child's social, behavioral or academic progress? Brain Balance picks up where conventional approaches leave off, going beyond the treatment of symptoms to address root causes. At Brain Balance, we're not about coping with barriers. We're about knocking them down, one small breakthrough at a time. Visit www.brainbalancecenters.com.
---