Congratulations, you're having a baby! Expecting and welcoming a new baby is certainly an exciting time for the whole family. It can also be an overwhelming time. To help, we have curated a list of services and providers beneficial for New Moms including everything you will need for prenatal and postpartum support and lots more. Whether you are becoming a Mom for the first time or this isn't your first rodeo, having a baby is one of the most amazing experiences we go through as women. Our 2021 New Mom Guide is full of local resources to help guide you through leading up to and after having a baby.
---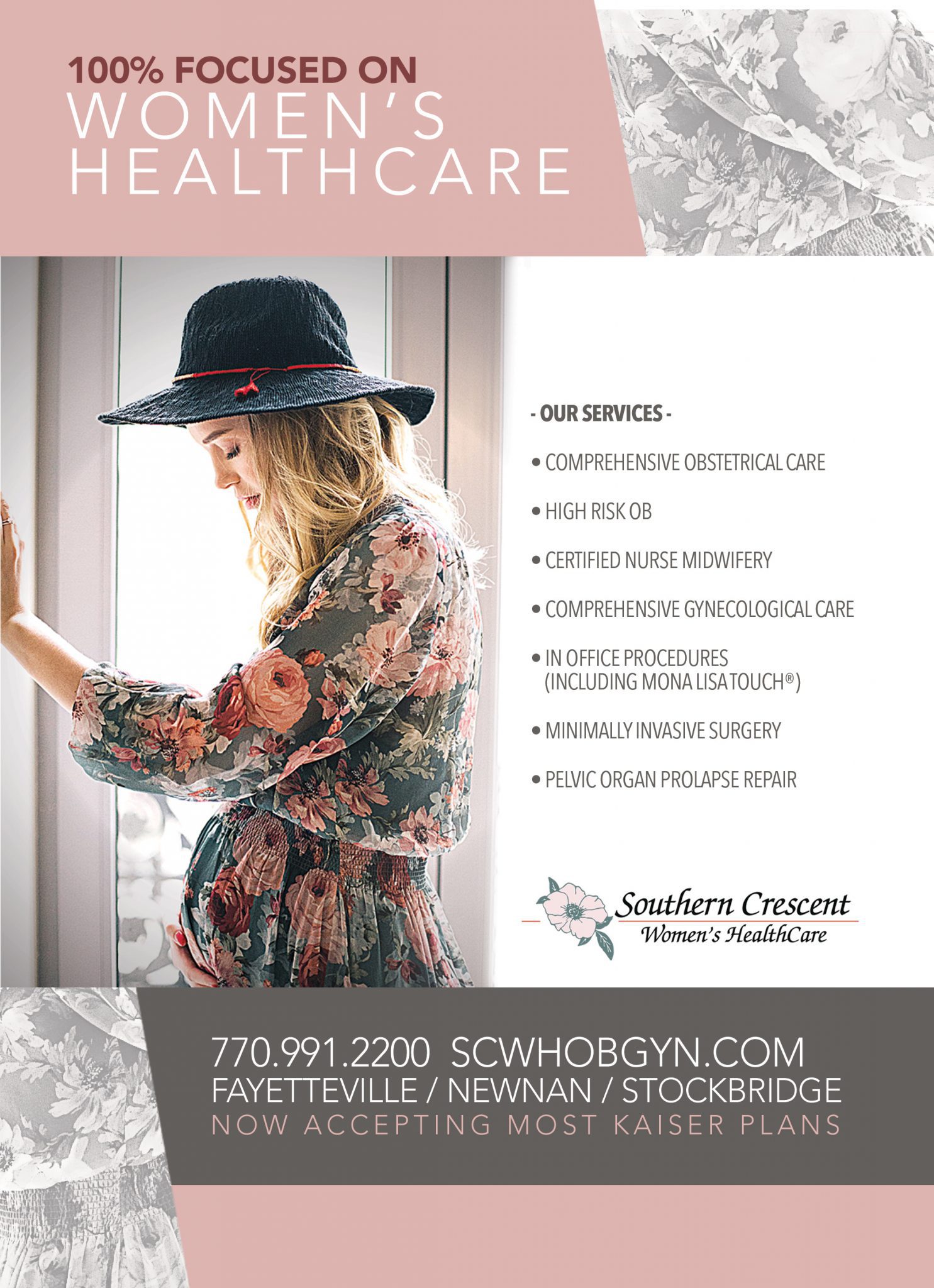 Southern Crescent Women's Healthcare's certified nurse midwifery team provides professional, individualized care in an intimate, family-centered, and compassionate environment. The midwives at Southern Crescent Women's Healthcare work closely with our physicians to provide safe & comprehensive pregnancy, birth, and postpartum care for you and your baby. They spend time getting to know you, your family, and your wishes for labor and birth. They educate you about pregnancy and childbirth so you are empowered throughout your journey. SCWH's Certified Nurse Midwives specialize in natural childbirth, however, you will have pain relief options such as IV medications or an epidural during labor and delivery. While pregnancy is usually a healthy time for many women, challenges and complications may occur. The midwives practice together with the physicians as needed to ensure the safety of you and your baby.  Our goal is to help you create a safe environment and a memorable experience for the birth of your child.Southern Crescent Women's Healthcare has an acclaimed staff of some of the best doctors, certified nurse midwives and nurse practitioners in their field who continually strives to make patients' experiences better and provide top-of-the-line care in both obstetrics and gynecology. Southern Crescent Women's HealthCare offers a wide range of detailed and complex gynecological services to meet today's women's healthcare needs.  Our highly trained physicians are able to provide laparoscopic and robotic surgical options when providing treatment for endometriosis, pelvic organ prolapse, urinary stress incontinence, bleeding abnormalities as well as the Acessa procedure for uterine fibroids. Our skilled physicians and nurse practitioners provide comprehensive gynecology care throughout all stages of a woman's life, beginning in the teenage years, onto childbearing years, into post-menopause, and retirement.
Please visit our website at scwhobgyn.com for more information regarding additional services provided by our practice.
---

The Barnett Girls, a mother-daughter team, opened Barnett & Co. in the Avenue Peachtree City in December 2020. They hope to inspire you to find joy in your own personal style. Whether you're looking for a fun new outfit, welcoming a baby, looking to pump up your home décor, or searching for the perfect gift, they offer an elevated and engaging shopping experience and look forward to being your go-to lifestyle boutique! 
"As Peachtree City natives, we have loved being able to share our passion for all things beautiful and bring the elevated shopping experiences we enjoy to our friends and neighbors. Our pieces are hand chosen and thoughtfully collected to reflect and inspire a fresh-traditional lifestyle. Come see us!" – The Barnett Girls
Barnett & Co is located in the Avenue at 203 City Circle, Peachtree City, GA 30269.
Monday – Saturday
10AM – 6PMSunday
12PM – 5PM
For more about Barnett & Co., visit them at www.shopbarnettandco.com
---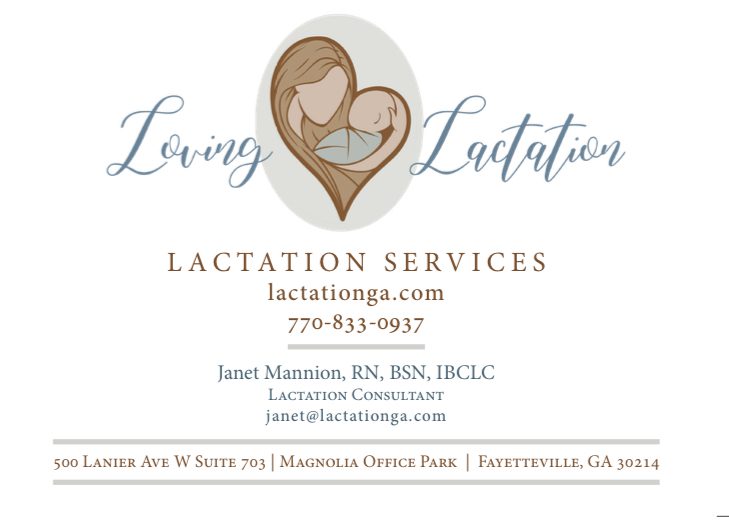 Supporting you during your breastfeeding journey with "loving lactation" care, Janet Mannion, RN, BSN, IBCLC  is an International Board Certified Lactation Consultant and a registered nurse. She worked at Piedmont Hospital in Atlanta in the Newborn Nursery and Neonatal Intensive Care Unit for 24 years before becoming a hospital based lactation consultant. For the past 13 years, she has worked as a lactation consultant at Piedmont Fayette Hospital. Her roles have included Family Care Center and NICU inpatient rounds, outpatient consults, teaching breastfeeding and other Family Care Center classes. She began the hospital's monthly family support group, Baby Dayz. Jan teaches in the EPIC program of the AAP, providing breastfeeding education in medical offices and communities. Jan is a member of ILCA, International Lactation Consultant Association and CAPPA, Childbirth and Postpartum Professional Association. We offer a breastfeeding support group, along with office and in-home consults. Breastfeeding is a natural way of feeding your baby, but it takes practice by both Mom and baby. Janet Mannion can guide you through the basics and give you skilled advice and support.
"I believe in the proven benefits of breastmilk for a baby's growth and development and the rewards of a successful, happy breastfeeding experience. It is a privilege to provide you and your baby with loving lactation care so that you and your baby will love your lactation experience."
Connect with Jan at lactationga.com
---
No occasion is more special than welcoming a new baby into the world. So, there's no better time to put a little extra creativity and personalization into your nursery decor or gift to honor the new arrival and help make baby feel right at home! Board & Brush Creative Studio is a workshop for constructing stylish and unique wood decor projects from scratch. You need not be a master craftsperson to sign up at the Peachtree City studio! We help novices feel right at home at Board & Brush thanks to the instructor-led format of the workshops during which attendees are guided through the ins and outs of power tools, paint, art, and assembly, with all
materials supplied by the studio. Each "Pick Your Project" workshop lasts about three hours and costs $68,
with pre-registration required. Board & Brush offers a wide variety of hands-on, private experiences from workshops, private parties, baby showers, bridal showers, bachelorette gatherings, children's birthday bashes, corporate events, and fundraisers. Come alone or bring your friends and family to share in our custom
wood sign workshops. You will have a creative experience you won't forget! Visit www.boardandbrush.com/peachtreecity.
---
Does your baby's sleep have you more confused than a chameleon in a bag of skittles? Maybe what used to work isn't working any more. Maybe it never has. Here is the SECRET: it doesn't have to be that way. It's ok to be tired of being tired.
Sleep is natural, but it is not always instinctual for babies or parents. In fact, it can be downright confusing and overwhelming for the whole family. But here is what I want you to know: A good foundation of sleep lays the groundwork for a thriving family. As parents, we aren't expected to have it all figured out right away—but with education and support we can build a family that flourishes, not falters. Let sleep be the cornerstone to your family's growth. Do you want to know how to find sleep filled nights for your family without having to let your baby Cry It Out? When we work together toward your family's sleep goals, we create a personalized plan including follow-up support that not only WORKS but aligns with your values as a parent. I offer a Parent Present Approach to supporting your child toward a calm and restorative night's sleep. Visit www.ebsleep.com.
---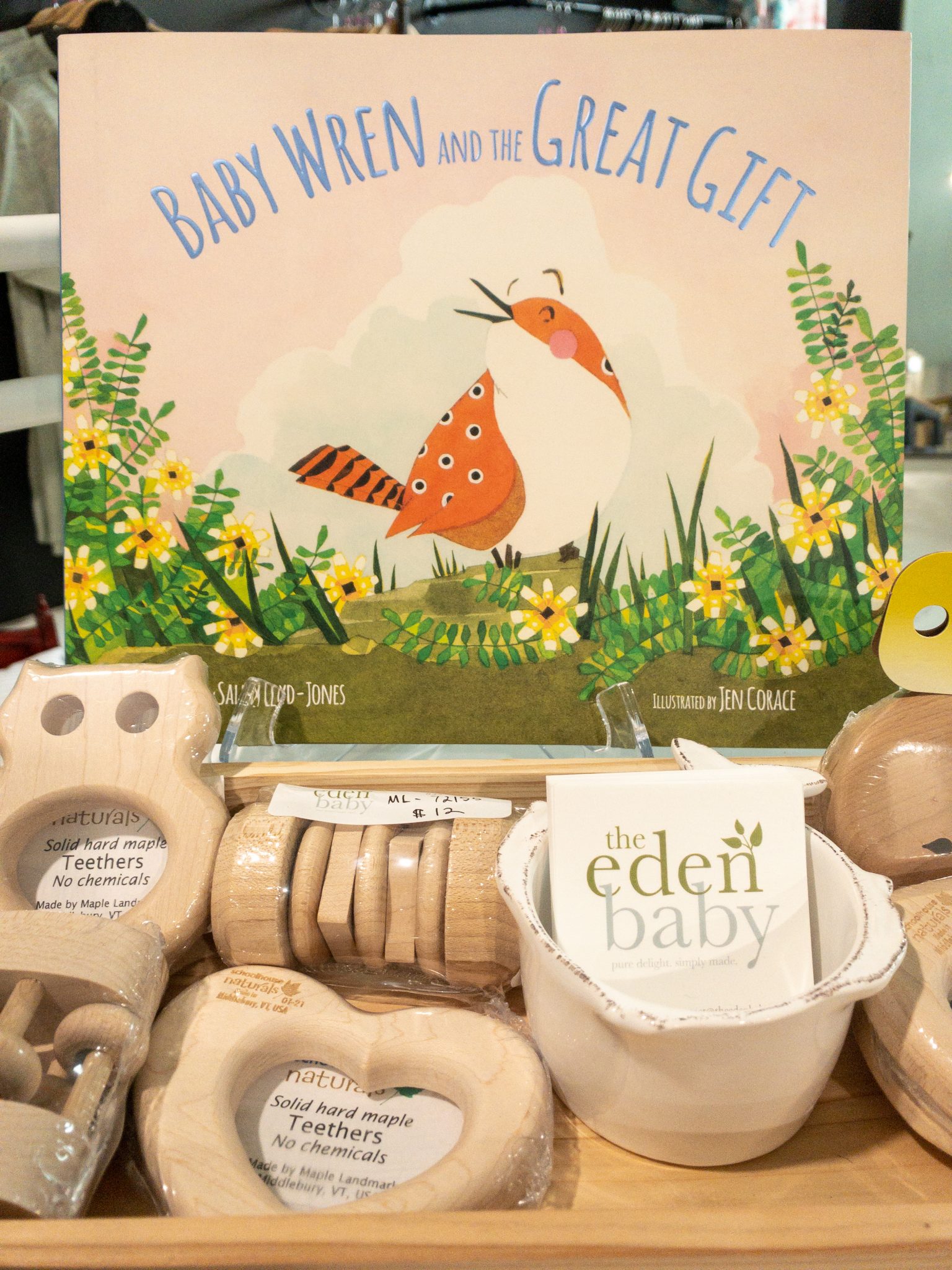 The Eden Baby is a boutique style store located in Heirloom Market and online featuring natural and organic products, gifts, toys, for newborns up to school age. It was started by two generations of mothers with the goal to encourage a return to a natural playing environment. By introducing open-ended, non-toxic toys from the beginning, we hope to promote peace and healthy development, as well as inspire exploration and creativity.
We strive to partner with artist who not only aim to produce toys and products without harmful substances, but also want to have a positive impact on our planet. Babies are natural explorers and are excited about learning from birth and with nature as their inspiration, the boundaries of creativity and imagination are endless! Visit www.theedenbaby.com.
---
The benefits of staying hydrated both pre and post natal is key to minimizing the risk of low amniotic fluid, low breast milk production, and often can lead to premature labor. Some moms can suffer from Hyperemesis gravidarum which causes severe nausea and vomiting. It's important if the OB physician/Midwife deems necessary to replenish hydrating fluids with essential electrolytes. It is just as essential for post-natal moms to stay hydrated as well, especially those moms who decide to breast feed. Studies show breast milk is 80-90% water. Moms, it is important to replenish your water intake!
Re-up Hydration Heath and Wellness
can help you. One of the most effective ways of addressing dehydration and lack of nutrient absorption is IV Nutrition Therapy. Our clients receive direct absorption of essential electrolytes and vitamins with almost 90% absorption. Hydration infusions can improve your immunity and even enhance your skin as well. Visit
www.reupatl.com
to schedule a consultation.
---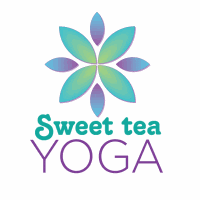 Sweet Tea Yoga is Peachtree City's Premier Yoga Studio. We offer a wide range of classes, from Foundational Flow to Ashtanga, Power Flow, Yin and Yoga Nidra. We are the only studio south of Atlanta to offer Prenatal Yoga which is designed to help expecting mothers relax and adjust as their body changes through the various stages of pregnancy. Designed for Postnatal Mothers, Mommy and Me Yoga allows the body to safely ease back into exercise after giving birth. This soothing class also offers playtime, singing songs, and a chance for mom and baby to bond. Owner of Sweet Tea Yoga, Sarah Ruiz is a mother of 4 children and lives here in Peachtree City. Visit www.sweeteayoga.com.
---
Pediatric Chiropractic care begins a healthy foundation for your child's health and wellbeing. More than 95% of newborns have misalignments following childbirth, therefore, you can never start Chiropractic care too early. Dr. Tina has adjusted many newborns including her own two children.
Our office specializes in prenatal and pediatric care. Our chiropractors have received special training and have checked the spines of infants as early as minutes after birth. The birthing process can cause extreme physical trauma on the infant and the mother, however, chiropractic can minimize the trauma on the mother by ensuring that her spine and hips are in proper alignment before, while minimizing the trauma on the infant by providing proper spinal alignment as soon as possible. Spinal checks can also reduce colic, ear/nose/throat infections, and other sicknesses in newborns and infants. They can also facilitate breast feedings and reduce the severity of allergies and sleep disorders. Pediatric adjustments are extremely gentle and use no more pressure than would be necessary to test the ripeness of a tomato.  As infants begin to grow, they become more mobile. Beginning with supporting their own heads, sitting up right, and learning to crawl, children quickly proceed to walking and then running. Spinal checks can correct any spinal issues that may arise in this fast-paced phase. Some other childhood issues, such as bed-wetting and 'growing pains,' can be due to subluxations. When corrected by adjustments, these behaviors can reduce or even stop completely.
Chiropractic care can help with many issues such as colic, ear aches, sleep issues, acid reflux, asthma, allergies, ADHD, ADD, behavioral issues, and bed wetting. Visit www.healthylifechiropractic.com
---
We help women find lasting relief from bladder and bowel problems, pelvic pain, sexual health, and help women stay active with prolapse and Diastasis Recti. We also help hundreds of women with prenatal and postpartum health and wellness. We offer free phone consultations to discuss your specific problem. Visit
www.regenphysio.com
.
---
Though I'm rooted in Newnan, Ga., I will travel. As your photographer, I want to help you tell your story chapter by chapter capturing those true moments of unposed love and happiness! I strive capture the moments that will bring a tear to your eye and fill your heart with pure joy! For seven years, I have been photographing weddings, newborns, births, family portraits, and much more. With my keen eye and skill, I will help you every step of the way to ensure that you have those moments captured to enjoy for years to come! Book a session mentioning The Peachtree City Moms and receive 25% off your session. Visit
www.newnanphotography.com
….. I'm looking forward to meeting you! Kayla
---

Hey mama, I see you over there working hard to care for your precious family, shepherding their hearts, staying on top of laundry, all while making sure they eat enough veggies. You truly are doing a phenomenal job. But you're overwhelmed by all of the STUFF. 
Clothing 

Toys 

Paperwork 

The infamous junk drawer (you know…the one we all have)
You don't feel like you can fully relax in your home because there is always something to pick up and tidy. You're not sure where that thing goes, but you know it doesn't go THERE. You're stressed out; feeling overstimulated by the number of items, unsure of where to start, and lacking time. Enter, Rachael. I'm a professional home organizer with a passion for restoring harmony to your home through organized simplicity. I believe the home is an intimate space that deserves unique attention and care. It brings me joy to create custom strategies of organization that restores peace to your home, while unveiling its unique beauty. By creating sustainable systems, we can quiet the clutter, invite connection, and create a peaceful environment where your family thrives. Visit www.yourtidynest.com
---

Just Us Kids Pediatrics opened in June 2012. Dr. Justice has always dreamed of owning her own practice in the community which she serves. Just Us Kid strives to maintain the personal touch and customer service that every child and family so deserves. It is our desire to make your child's visit as fun and comfortable as possible.
The majority of our team members are moms so we value practicing medicine in a nurturing way. We have a passion for serving children and their families and would love the opportunity to serve you. Visit www.justuskidspeds.com
---
At Clean Eatz's we want to help be the first step you take to living a healthy lifestyle. We provide a Full Café Menu, Grab 'N' Go Meals, Meal Prep with new meals each week and Catering. Our goal is to give you the tools needed by preparing properly portioned sized meals with a balance of Protein, Carbs and Fats. Our meals eliminate the guessing, temptation and lack of being prepared due to a busy lifestyle. Our Clean Eatz Meal Plans offer you the opportunity to have a personal chef prepare every meal for you at a cost you can afford. We are here to provide a menu that accommodates ALL levels of clean eaters! Clean Eatz is located at 282 SR 74N in Peachtree City. Visit
www.cleaneatz.com/locations/peachtree-city-ga
 to order online and for menu options.
---
Infinity Academy is a full service child care educational center serving children ages 6 weeks to 12 years with Preschool, Lottery funded Pre-K programs, and school age programs including before and after school care, holiday care, and summer programs. Visit
www.nfinit.net.
---
The Piedmont Wellness Center is a medically integrated fitness center. We pride ourselves on providing dynamic services to fitness and health maintenance. Our staff provides all the education, support and encouragement you need to make a lasting commitment to your health. Together, we'll work to enhance your healthy lifestyle for today and the future.
These services include:
– Medical fitness programs
– Personalized exercise plans
– Comprehensive exercise facilities and exercise classes
– Personal training and specialty programs
– Nationally certified fitness specialists
We believe our facility offers you a unique and personalized experience not offered anywhere else. Come in today and experience The Piedmont Wellness Center. Visit www.piedmontwellnesscenter.com.
---
Thank you for viewing our Guide for New Moms and I hope you found it resourceful! Please support these local businesses and providers above who truly make our community a better place!
Sincerely,
The Peachtree City Moms